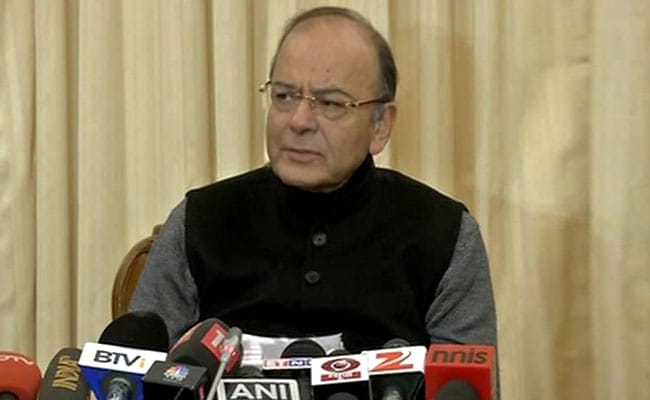 Highlights
Some economists have forecast sharp slowdown due to demonetisation
But Mr Jaitley said tax data showed sharp increase in growth
Even in December tax figures were higher, he added
Finance Minister Arun Jaitley on Monday cited robust tax collection numbers to dismiss reports of economic disruption following the government's decision to demonetise high-value notes.
Releasing data on tax collection, Mr Jaitley said that in the first three quarters (from April to December) of the fiscal year (2016-17), direct tax mop-up rose 12.01 per cent. Direct taxes comprise individual income as well as corporate tax.
"The big picture is that direct taxes for first three quarters have moved up, indirect taxes have significantly moved up. December 2016 has moved up compared to December 2015 and December 2016 has moved up compared to November 2016," the finance minister said, adding, "Tax figures are real. This is the money which has come in."
"All the stories about job losses or businesses suffering losses are anecdotal," he told reporters.
The indirect tax collection during the
nine-month period rose 25 per cent
, Mr Jaitley added. Giving a break-up, Mr Jaitley said central excise collection surged 43 per cent, services tax 23.9 per cent and customs duty 4.1 per cent. He said that from November 2016 to December 2016, the indirect tax collection rose 12.8 per cent.
The tax data comes after the Statistics Office on Friday predicted that economic growth in the fiscal year that ends in March would slow to a
three-year low of 7.1 per cent
, but without fully accounting for the disruption caused by demonetisation.
This has led economists to forecast a
sharp slowdown in economic growth
for this year. Many economists have pared their growth forecasts to 6.3-6.4 per cent for 2016-17, citing the impact of demonetisation, which they reckon will linger for one more year.
A study by All India Manufacturers' Organisation had also indicated wide-scale job losses in the small scale industries following demonetisation.
Many critics of demonetisation have said that the full impact of the move was felt in December, rather than November, the month in which Prime Minister Narendra Modi announced a ban on Rs 500 and Rs 1,000 notes, aimed at battling corruption and black money.
In December 2016 alone, the central excise duty collection rose 31 per cent, Mr Jaitley said, as compared to December 2015. Services tax collection rose 12.4 per cent in December while customs duty collection fell 6.3 per cent primarily due to fall in gold imports, he said.
"As a considerable debate is in the public space about the impact of the currency squeeze in the month of November and December, the data of these two months become relevant," the finance minister said.
Mr Jaitley also said that even most of the states have reported an increase in collection of value added tax (VAT) collection. The VAT figures for December are yet to be released, he said.
Prime Minister Narendra Modi on had November 8 announced demonetisation of Rs 500 and Rs 1,000 notes which took away 86 per cent or Rs 15.44 lakh crore out of the money in circulation.