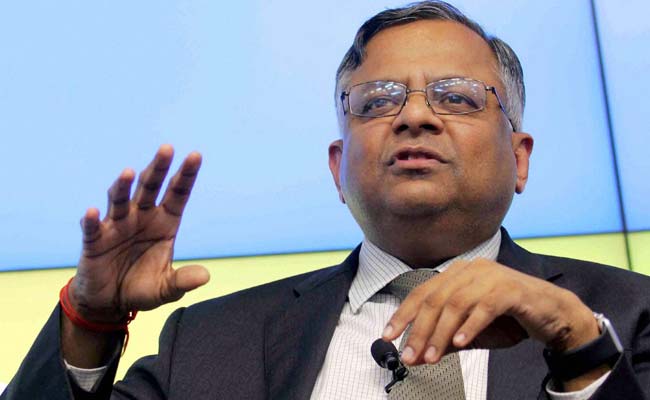 Mumbai
: Tata veteran N Chandrasekaran on Tuesday took over as the chairman of Tata Sons, promising to deliver "industry leading" performance in
all its businesses
.
"We will work together to deliver business performance which is industry leading in all our businesses, and lead...and not follow," Mr Chandrasekaran, 53, told reporters outside Bombay House, the iconic headquarters of the $103-billion salt-to-software conglomerate. (
Watch
)
"It is an honour and a privilege for me to assume this responsibility...I look forward to the opportunity to serve the group in this new role for the years to come and seek support from everyone so that we can collectively make it happen," he said.
The new Tata chief began his job chairing the Tata Sons board meeting at Bombay House, sources said.
Mr Chandrasekaran served
TCS for three decades
as it rose to become the largest IT company in the country and also the crown jewel for Tata Sons - the group holding company which is majority-owned by philanthropic trusts set up by the Tata family.
Mr Chandrasekaran or 'Chandra', as he is popularly known, reached the group headquarters around 9:15 am and within a few minutes, Ratan Tata and other board members also arrived.
On Monday, Mr Chandrasekaran chaired the TCS board meeting which declared the country's largest
share buyback worth Rs 16,000 crore
.
He succeeds 79-year-old
Ratan Tata
, who had come back as the interim chairman of the group after a surprise ouster of
Cyrus Mistry
as the chairman on October 24 last year.
His removal led to a bitter corporate battle with Mr Mistry coming out with not-so-palatable allegations about the functioning of the diversified group, including personal allegations against Ratan Tata himself.
The Tatas had rubbished all allegations and wrested control after removing Mistry from directorships at group companies and finally the holding company.
The group relies heavily on TCS and the acquired British automaker
Jaguar Land Rover
, whereas other traditional businesses that made it a force to reckon with like steel, auto and hospitality, are not at the top of their mark, according to industry watchers.
Marathon runner Mr Chandrasekaran is the first non-Parsi to lead the salt-to-software conglomerate.