Highlights
Airtel to get Tata Teleservices airwaves, 40 million customers
Bharti says it will assume some small liabilities related to spectrum
Tata will retain stake in tower company Viom Networks
Bharti Airtel Ltd. agreed to absorb Tata Group's mobile-phone business in the latest merger shaking up one of the world's most crowded wireless markets.
Under the agreement, India's largest mobile-phone operator will get Tata Teleservices Ltd.'s airwaves and 40 million customers, Bharti said in an emailed statement on Thursday. Tata will settle past liabilities to pave the way for Bharti to complete what it described as an effectively "debt-free cash-free" merger, according to the statement. Tata will finalize the structure of the deal with Bharti in the next five weeks, Tata Group Chief Financial Officer Saurabh Agrawal said in an interview Thursday.
"The consideration we're getting is that instead of closing down the business, we are taking care of every stakeholder," said Agrawal at Tata's Mumbai headquarters. "Frankly, this business should have been restructured a long time back. We lost the industry position a while ago and we never recovered."
The world's second-biggest mobile-phone market has long been ripe for an overhaul with almost a dozen carriers vying for customers with some of the lowest tariffs on the planet. Then Reliance Jio Infocomm Ltd., controlled by India's richest man, roiled the industry by jumping into the fray last year with free calls for life and free data for a limited period.
Bharti said it will assume some small liabilities related to spectrum. Tata will retain its stake in Viom Networks Ltd., a tower company, and the group is exploring merging its enterprise business with Tata Communications Ltd., according to the statement. Parent Tata Sons will repay all the debt that Tata Teleservices has, Agrawal said.
Tata Teleservices was ranked ninth among India's 11 carriers, with a market share of 3.55 percent as of July, according to the latest data from the nation's telecom regulator. The top three carriers -- Bharti, Vodafone India Ltd. and Idea Cellular Ltd. -- control almost 60 percent of the market. Jio now has about 11 percent of the market, ranking it fourth.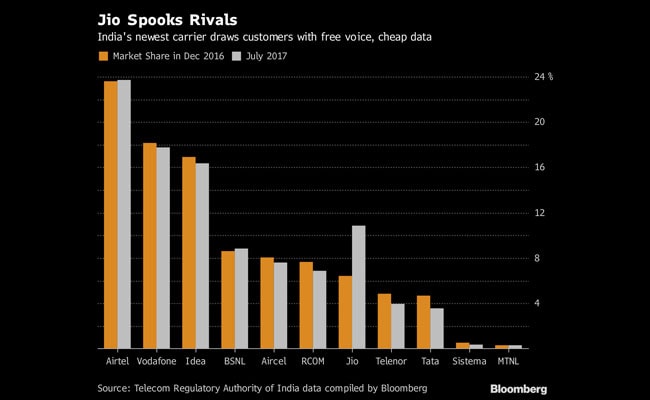 Jio's entry into the market sparked the latest shakeout. In March, Vodafone and Idea announced that they would merge operations in India to create the nation's largest carrier. In February, Telenor ASA said that it would sell its India unit to current market leader Bharti. Reliance Communications Ltd. had planned to merge with Aircel Ltd. but that deal fell apart in early October.
The industry overhaul may be far from over.
"The telecom sector is undergoing a very turbulent and difficult phase," billionaire Kumar Mangalam Birla, the patriarch of the group that controls Idea, said in an interview in October. "Probably the fittest three will survive."
The promise of more than a billion customers led Indian companies to flood the wireless industry but as growth slowed, their debt-fueled expansion began catching up with them. As of March 31, Indian wireless operators had a combined debt of about 4.6 trillion rupees, largely because of aggressive bids for airwaves, according to credit rating agency ICRA Ltd.
For Tata, its mobile-phone business has been a long-running headache. Until its resolution earlier this year, the unit was the subject of a years-long dispute between group holding company Tata Sons Ltd. and former Japanese partner NTT Docomo Inc. That feud contributed to founding family scion Ratan Tata ousting Cyrus Mistry as group chairman late last year.
Bharti Airtel shares jumped as much as 7.5 per cent today. Including today's gain, the stock has rallied 41 per cent this year.
"We'll take the near term pain. To gulp down the poison. Finish it off and resolve it." said Agrawal. "We are triple A. We act as triple A and we will always be triple A," referring to Tata Sons' credit rating.
(Except for the headline, this story has not been edited by NDTV staff and is published from a syndicated feed.)