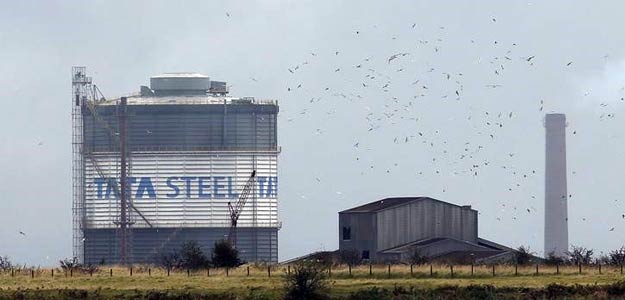 New Delhi
: Tata Steel on Wednesday said its consolidated net loss has come down to Rs 3,213.76 crore in the quarter ended March 31, 2016 as against Rs 5,702.28 crore in the corresponding period last year.
Total consolidated income of the firm, however, fell 12 per cent to Rs 29,507.55 crore in the January-March quarter of 2015-16 as against Rs 33,666.18 crore in the corresponding quarter of 2014-15.
The net loss includes a non-cash write down of Rs 1,724.18 crore of the fixed assets mainly relating to the European assets, the firm said.
However, the net loss in the latest quarter was higher than that of Rs 2,127.23 crore reported in the previous quarter (October-December).
Steel deliveries for the March quarter were lower at 6.94 million tonnes (MT) as against 7.06 MT in the year-ago period.
Kalinganagar Steel Plant started commercial production and the stabilisation process is currently underway, the firm said, adding that it has declared an equity dividend of Rs 8 per share.
"Exceptional items comprise redundancy provisions of Rs 441 crore in Tata Steel Europe and non-cash impairment in some of the downstream businesses in Tata Steel Europe and Tata Steel Minerals Canada," the firm said.
In 2015-16, Tata Steel undertook a restructuring exercise involving 2,950 employees, it added.
Tata Steel incurred a capex of Rs 11,486 crore in 2015-16, of which around Rs 3,695 crore was spent on the Kalinganagar green field project.
The firm's liquidity position remains strong with Rs 20,514 crore of cash and cash equivalents including drawn and undrawn bank lines.
It continued to divest its non-core assets and raised about Rs 4,478 crore through their monetisation.
"Given the challenging situation faced in Europe, the company has taken several steps to restructure the European operations," the firm said.
For the entire fiscal year 2015-16, Tata Steel's consolidated net loss was lower at Rs 3,049.32 crore against Rs 3,925.52 crore in 2014-15. Total income was lower at Rs 1.17 lakh crore from Rs 1.40 lakh crore in the previous year.
For the entire fiscal year 2015-16, Tata Steel deliveries were lower at 25.92 MT against 26.32 MT in 2014-15.
Tata Steel Group ED (finance and corporate) Koushik Chatterjee said, "While the pressure on the product prices continued during the quarter both in India and in Europe, our operations during the quarter were very resilient across most of the geographies and have reported much improved underlying performance compared to the previous quarter."
On its European operations, Tata Steel said restructuring of Strip Products UK, Speciality Steels and Long Products Europe lead to around 3,000 job losses.
However, it said Tata Steel India saw strong growth across segments. Automotive & Special products sales reached highest ever sales of 1.43 MT and contributed 15 per cent of total sales. Branded Products and Retail sales surged to 3.35 MT and contributed around 35 per cent of the total sales.
Tata Steel India and South East Asia managing director T V Narendran said: "Tata Steel recorded its highest ever sales at 9.54 MT in 2015-16 and successfully consolidated its market share despite extremely challenging market conditions."
Sales in Q4 increased by 16 per cent with strong growth in key segments such as Automotive and Branded products, he added.
Cost improvement initiatives and downstream value addition across product/market segments remains an area of focus, Mr Narendran said.
Tata Steel Europe MD and CEO Hans Fischer said: "Growing European steel demand was undermined by continued surging imports in 2015 imports into the EU rose so fast that domestic deliveries declined and prices came under further pressure."
That's why it is vital the European Commission and national governments continue to strengthen action against unfair trade, he added.
Welcoming Indian government's measures to check import of cheap steel products, Mr Chatterjee said: "While government intervention against unfairly priced imports in India has helped markets stabilise, the UK steel operations continued to be exposed to volatile currency and low priced imports into the country."
On fall in realisations, Tata Steel said: "Higher deliveries at Tata Steel India, strategic volume reduction at Tata Steel Europe and NatSteel China as well as improvement initiatives across India and Europe minimised the impact of fall in realisations."
The firm said its net debt decreased by Rs 492 crore in January-March 2015-16 despite a capex of Rs 2,647 crore.
During the March quarter, the firm signed agreement to sell Long Products Europe to Greybull, which represent almost 30 per cent of its UK operations with 4,800 employees and capacity of 4.5 MT.
The firm also commenced sale process for remaining UK business which employs around 11,000 people in the UK and has steelmaking in Port Talbot and Rotherham with capacities of 5.7 MT.
On outlook, the firm said Indian steel industry prospects improving due to low oil prices, the reform momentum and policies to increase infrastructure and manufacturing output.
While normal monsoons and increased thrust on rural spend is expected to revive rural demand, supply side pressures are likely to cap raise in domestic realisations.
Steel demand in Singapore and Thailand is expected to maintain growth rate on the back of their infrastructure building exercise, Tata Steel said.
Meanwhile, Tata Steel said it has not reached a decision on shortlisting any of the seven bidders for selling its loss-making operations in Britain. The Tata Group, which had set a deadline of noon on Monday for final bids for its British steel operations, was expected to finalise and shortlist the bidders at its board meeting on Wednesday. (
Read more
)