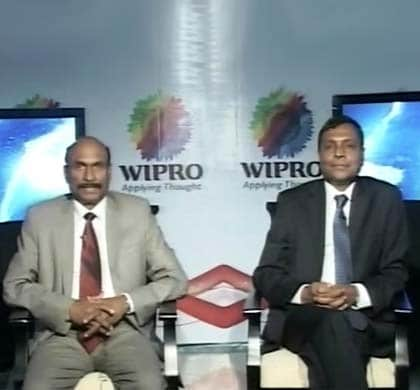 Highlights
Wipro, India's third largest software services firm, reported muted growth in the June quarter. Net profit rose 6.6 per cent sequentially to Rs 1,580 crore against Rs 1,481 crore in the March quarter, lower than estimates of Rs 1,641 crore. Suresh C. Sena
New Delhi:
Ratan Tata, chairman, Tata Steel, the biggest Indian steel company, predicts a challenging year for profit growth ahead.
"While Tata Steel's operations in India are expected to remain strong, its operations in Europe will continue to be under enormous stress for the next year or two until the Western European economy recovers," Ratan Tata, the company's chairman said in his letter to shareholders.
The company's annual report higlights worries of rising steel, raw material prices, slow global growth that could slow profit growth.
While Tata Steel's European business contributes 61 per cent of Rs 1,33,000 crore revenue of the company, the European business reported a net loss of Rs 4,240 crore. Profits of Tata Steel are dragged down by losses in Europe.
Tata Steel shares have already underperformed over the past one year. Shares shed 9 per cent value in just two weeks when the BSE Sensex shed 3 per cent value.
Here are key highlights of the 2011-12 annual report that suggest a weak outlook for the share price going forward:
• The unprecedented rise in iron ore and coking coal prices coupled with the acute decline in market demand will continue to negatively impact the Company's European operations, according to Ratan Tata, the company's chairman. Restructuring and capacity rationalising initiatives are under way to reduce costs and under-utilisation. The real growth will most likely be in Asia, Africa and Latin America," he said.
• The company's net debt increased 5 per cent to Rs 22,500 crore. However, the overall net debt to equity ratio fell to 1.16 at the end of Financial Year 2011-12 from 1.55 at the end of the previous year. Analysts are concerned that the net debt increased despite the company generating free cash flow of Rs 2,200 crore through operations. Free cash flow is the cash generated after providing for capital expenditure.
• According to the annual report, Tata Steel Group's expansion is dependent on sufficient cash generation and attracting fresh equity and loans to that effect. The debt for the Corus acquisition in 2007 that resides in Tata Steel Europe's balance sheet is a specific risk to the Group in the light of a set of covenants to be met. Covenants are restrictions imposed on a company's operations when it raises debt capital. The company has debt to the tune of 4billion pounds or close to Rs 40,000 crore with covenants.
• According to brokerage Motilal Oswal, the company's net worth rose 18 per cent to Rs 43,300 crore largely due to equity infusion, asset sales, good will and asset translation gains. This means the company's balance sheet size rose due to restructuring of the business and not due to profits from business operations. Core profit from India business after paying dividend contributed Rs 4,700 crore but this was offset by Rs 4,200 crore of after tax loss in overseas operations.
• The outlook for the most profitable Indian operation is not good too. "Significant cost increases on account of power, freight, iron ore, etc for India operations are sticky in nature. For TSI (Tata Steel India), the increase in revenue in FY12, driven by volumes and prices, was offset by increase in costs," Motilal Oswal said in an analysis report. With steel prices likely to soften as global economy slows, the company is expected to face pressure on profit growth.