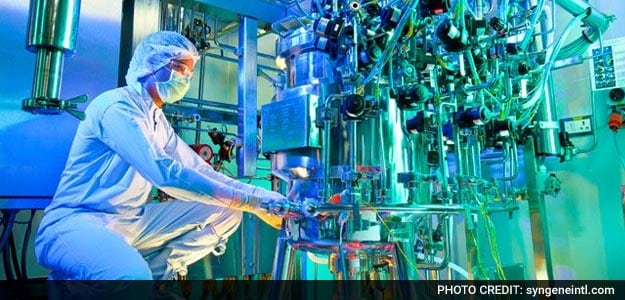 Syngene International, the contract research arm of biotechnology major Biocon, made a strong market debut on Tuesday. The stock surged as much as 27.4 per cent to an intraday high of Rs 318.50 within few minutes of listing, against its issue price of Rs 250.
Syngene International's IPO was subscribed over 32 times last month, helping it raise an estimated Rs 550 crore. The company had also raised Rs 150 crore from anchor investors. The IPO had opened on July 27 and closed on July 29.

Syngene International was incorporated in 1993 as a contract research arm of Biocon. It caters to the outsourced research requirement of global pharmaceutical, biotechnology, agrochemical, consumer health, animal health, cosmetic and nutrition companies on a fee-based contractual arrangement.

It has 221 clients globally. Eight out of the top 10 global pharmaceutical players including Bristol-Mayers Squibb (BMS), Baxter and Abbott are its customers. Syngene gets around 95 per cent of its revenues from exports, with top 10 clients contributing around 71 per cent to its revenue.

Syngene International's shares closed 24.22 per cent higher at Rs 310.55 apiece on the NSE.