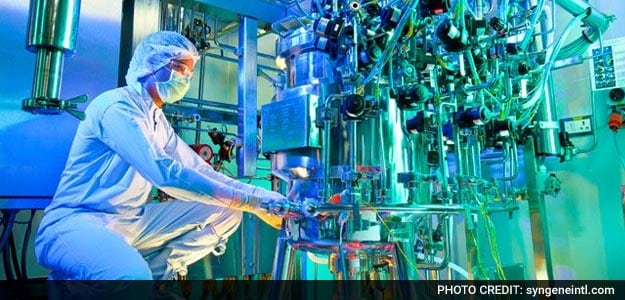 Syngene International initial public offer (IPO) opened for subscription on Monday. The company plans to garner around Rs 550 crore at the higher end of the price band of Rs 250 through this offer. The issue will close on Wednesday (July29).
Syngene International is offering 2.2 crore shares in the price band of Rs 240-Rs 250. The issue is essentially an offer for sale wherein proceeds from the IPO will not be ploughed back in the company. Its parent Biocon is selling 11 per cent stake in the company which will bring down its stake to 74.5 per cent from 85.5 per cent now. After the IPO, public shareholding in Syngene will increase from 14.5 per cent to 25.5 per cent. Kiran Mazumdar Shaw, chairperson and managing director of Biocon, told NDTV earlier that Biocon will invest the money raised from Syngene IPO for R&D purpose.

Company profile
Syngene International was incorporated in 1993 as a contract research arm of Biocon. It caters to the outsourced research requirement of global pharmaceutical, biotechnology, agrochemical, consumer health, animal health, cosmetic and nutrition companies on a fee-based contractual arrangement.

It has 221 clients globally. Eight out of the top 10 global pharmaceutical players including Bristol-Mayers Squibb (BMS), Baxter and Abbott are its customers. Syngene gets around 95 per cent of its revenues from exports with top 10 clients contributing around 71 per cent to its revenue.

Financial & Valuation
Syngene has a strong financial track record with its revenue witnessing a compounded annual growth rate (CAGR) of 28.2 per cent over FY11-15. It reported a net profit of Rs 175 crore on revenues of Rs 872 crore in FY15. Syngene's net profit has grown at a CAGR of 59.3 per cent over FY11-15, with its net profit margin rising from 8.4 per cent in FY11 to 20.1 per cent in FY15.

Syngene has reported strong return ratios as well. Its return on equity grew 840 basis points to 20.7 per cent over FY11-15 due to better operational performance, said ICICI Direct in a note.

At the price band of Rs 240-250, the stock is available at 27-29 times its FY15 earnings per share of Rs 8.8, which is slightly on a higher side compared to its global peers, said ICICI Direct.

Key Concerns
1) Client concentration: Syngene gets around 45 per cent of its total revenues from its top 3 clients - BMS, Abbott and Baxter - of which BMS alone contributed 30 per cent in FY2015, said Angel Broking. Besides, its top 10 clients accounted for around 71 per cent of its total revenue in FY2015.

2) Valuation Concerns: At the upper band of Rs 250 the stock is valued at 29 times its FY15 earnings per share of Rs 8.8, which is slightly above its relatively bigger listed global peers. So if Syngene does not manage to maintain its past growth rate then the upside will be capped, say analysts.

3) Consolidation in global pharma outsourcing business: The global pharma industry is witnessing consolidation, so any cut down on R&D spends by pharma companies may impact Syngene, said ICICI Direct.

4) Fluctuation in the INR/ US dollar exchange rate is a key risk to the rupee revenue of the company as it gets 95 per cent of its revenue from exports, says Anand Rathi Securities.

Should You Buy?
ICICI Direct recommends "subscribe" to Syngene IPO, citing its strong and sustainable business model. ICICI Direct said the company is well poised to cash in on growing global pharma research and development outsourcing trend. The brokerage believes Syngene will be able to maintain its past track record of earnings growth on the back of high revenue visibility from long term contracts with top 10 clients.

Similarly Anand Rathi Securities advises "long term subscribe" on the issue, citing its consistent performance.

However, Angel Broking recommends "avoid" on the IPO, citing "no valuation comfort" and higher concentration of revenue with top 10 clients. Angel Broking says at the upper price band of Rs 250 Syngene shares are valued at around 23 times its FY2017 estimated earnings per share, which compares with 17-22 times its global large peers.

Syngene International's IPO was subscribed 32 per cent on the first day of offer on Monday. (Read)