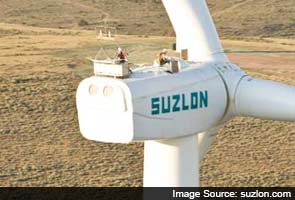 Shares in Suzlon Energy surged over 7 per cent to an intraday high of Rs 27.10 on Tuesday after news reports said Sun Pharma founder Dilip Shanghvi, who recently acquired a big stake in the company, has agreed to provide security of as much as Rs 3,800 crore to the company.
Mr Shanghvi had earlier this month acquired 23 per cent stake in the wind power company. This security by Mr Shanghvi will give more comfort to Suzlon's creditors and also help the wind power company to obtain more bank guarantees and letter of credit to meet its working capital needs.
Analysts say current working level at Suzlon is 50 per cent of its order book, which is hurting its operational performance. However, post this guarantee from Mr Shanghvi working capital pressure is likely to ease.
Shares in Suzlon ended 4 per cent higher at Rs 26.25 apiece, outperforming the broader Nifty, which closed 0.8 per cent higher.