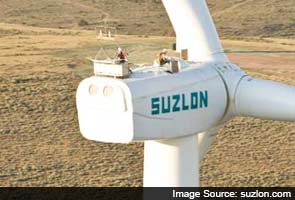 Ahmedabad
: Debt-laden wind turbine maker Suzlon on Saturday announced plans to invest Rs 24,000 crore over the next 5 years on energy projects to generate 3,000 MW in Gujarat and said its rupee debt will be halved to Rs 4,000 crore by the end of the current fiscal year.
The company's rupee debt stands at Rs 8,000 crore and it will be reducing it by 50 per cent by the end of this fiscal year, chairman Tulsi Tanti told reporters here. The company also has an equal debt in foreign currencies.
"We have large operations and a capital structure. We also have many avenues to generate funds to reduce the debt and we are working out on that," he said, adding that the debt will be zero in the next three years. The company is under corporate debt restructuring since 2012.
Mr Tanti announced a Rs 24,000-crore investment in Gujarat over the next five years to set up a 3,000 MW wind and solar energy capacity which will be owned by small businesses in dedicated clusters for reducing their energy outgo.
The company will be setting up 2,000 MW of on-land wind capacity, 500 MW of offshore wind capacity and 500 MW of solar capacity, he said, adding that offshore capacity will be 5-10 km off the Kutch coast.
Asked about speculation around listing of its German subsidiary Senvion (formerly Re-Power) and if funds will be generated from this avenue to retire debt, Mr Tanti refused to comment, pointing out that the company is publicly listed and has to inform the bourses first.
The company's foreign currency debt too stands at Rs 8,000 crore at present, he said, adding that a bulk of this is the $500-million foreign currency convertible bonds (FCCBs) whose repayment was also rescheduled following a default some years back.
The FCCB holders have been given an option to convert their debt into equity, Mr Tanti said, adding that almost $50 million of it has been converted and more investors will follow suit.
Pune-based Suzlon will be creating the energy farms in the Saurashtra and Kutch regions of the state and sell to the small enterprises in units of one wind mill and above, Mr Tanti said.
"We are not investing in wind projects, we are only playing the part of a developer...we will be marketing these to SMEs," he said, pointing to a similar pilot project carried out Coimbatore a decade ago.
Suzlon will be connecting the energy farms to the state grid and this will act as captive capacity for the owner SMEs.
This development also marks Suzlon's foray into solar power, Mr Tanti said, adding that it will procure the panels from the market but develop the operation and maintenance capacities for solar panels.
Mr Tanti claimed that for the first 10 years, when the SME will have to service the debt raised for setting up the wind mill or solar panel, the cost per unit will come down to Rs 5 as against Rs 6.50 now. However, once the loan repayment is done, the same cost will come down to Rs 0.50 per unit for the remaining 15 years life of a wind mill.
There are a slew of government schemes which will help the SME owners in investing, he said.
The minimum investment under the scheme has been fixed at one wind turbine of 2.1 mw which will entail investment of Rs 15-16 crore, he said.
Suzlon is primarily targeting energy-intensive SME units operating in clusters in the state, dedicated to textiles, food processing and cold storage and auto components.
The company has already installed 1,854 mw of 2,000 MW capacity expansion announced at the Vibrant Gujarat Summit two years ago, Mr Tanti said, and exuded confidence that it will achieve its target by March.