Highlights
Men prefer organizations with strong leaders, finds Randstad survey
Women find employers who offer robust training programmes more attractive
69% workers prefer to work in IT & ITeS sector
Microsoft
India is the most attractive employer brand in the country this year, followed by Amazon India, revealed the findings of a survey on Wednesday. The Randstad Employer Brand Research (REBR) 2018, conducted by Randstad, a leading HR service provider, also stated that salary and employee benefits continue to be the top drivers among the local workforce across all profiles. On a sectoral basis,
Tata Consultancy Services (TCS)
was the top employer brand for the
IT industry
, Larsen & Toubro for infrastructure & construction and Hindustan Unilever for FMCG.
Paul Dupuis, MD & CEO Randstad India said, "Employer Branding has never been more important than it is now. Candidates have choices, not only where they decide to work but in what capacity. Organizations must have a story, a greater purpose and a clearly defined North Star which defines why they exist."
The top 10 most attractive employers brands in 2018 also include Hindustan Unilever, IBM India, ITC Group, Mercedes-Benz India, Samsung India and Sony India (in alphabetical order), according to an official statement released by Randstad.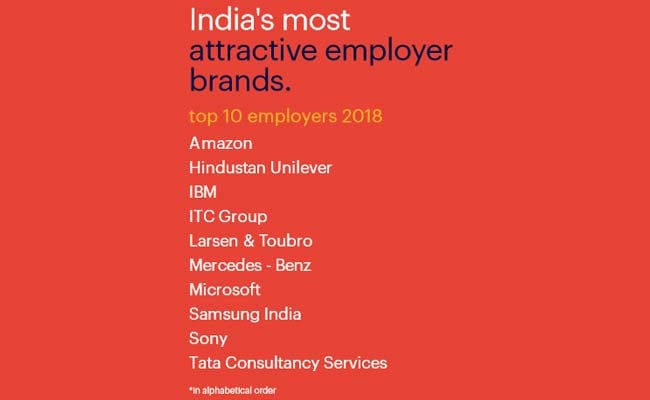 (The top 10 most attractive employers brands in 2018, according to Randstad Employer Brand Research (REBR) 2018.)
Salary and
employee
benefits (48 per cent), work-life balance (44 per cent), job security (42 per cent), career progression (39 per cent) and strong management (39 per cent) are the top five influencing factors for the workforce while choosing an employer.
(Salary and employee benefits is the top factor for the workforce while choosing an employer, according to the Randstad survey.)
Job security
emerged as the top factor for an employee to stay with the current employer, with 45 per cent of the survey respondents indicating this. Providing increased career growth opportunities could be a great asset for organizations to attract at least 43 per cent of the workforce, who said they left their employers for this reason.
Men prefer organizations with strong leaders while women find employers who offer robust training programmes more attractive, mentioned the research.
Forty-nine per cent of the workforce indicated that in order to stay employable and engaged at work, they tend to be open, flexible and also showcase a willingness to change. Forty-seven per cent participants mentioned that they undergo skill development trainings, courses etc. to keep their skills up to date and also adopt the latest techniques and technologies to stay employable.
The Randstad survey also highlighted that workers prefer to work for companies operating in sectors like
IT & ITeS
(69 per cent), followed by Automotive (68 per cent) and Retail & FMCG (67 per cent).
The Randstad Employer Brand Research, covers 75 per cent of the global economy with 30 participating countries and more than 1,75,000 respondents worldwide. The 30 participating countries are from Europe, Asia Pacific and the Americas, where Randstad has active presence. In each country, more than 150 large companies are chosen for the survey.
Randstad India offers the broadest HR services portfolio ranging from Staffing, Search & Selection to Recruitment Process Outsourcing (RPO). Randstad was founded in 1960 and is headquartered in Diemen, the Netherlands.