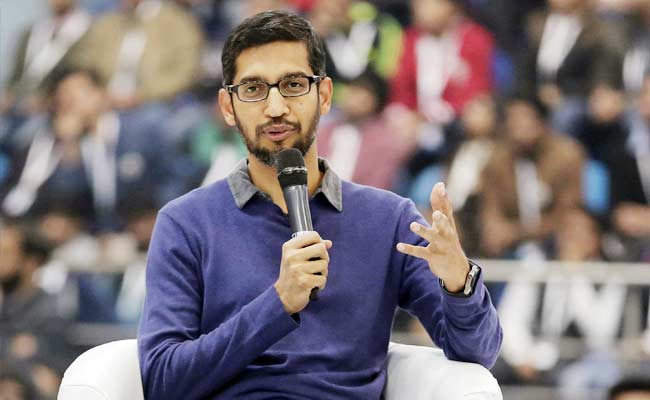 Highlights
Important to get real world experience, says Google CEO to IIT students
Pichai expressed surprise to find young IITians aiming to get into IIMs
He visited his hostel room at his alma mater, IIT Kharagpur
Kharagpur:
Admitting that he used to bunk classes during his engineering days at IIT Kharagpur, Google CEO Sundar Pichai on Thursday expressed surprise to find young IITians aiming to get into IIMs even as he stressed on the importance of getting real world experience.
"There is a lot of pressure to follow a set of rules throughout your career (in India). When you are in high school you think of college. I get very surprised that people get into the IITs and immediately they are thinking about IIMs and so on. It is so important to get real world experience," Pichai said at an interactive session with IITians here today.
Back to the campus 23 years after completing B.Tech in 1993, he said students spend a lot of time on books and learning academically.
On a nostalgic trip to relive his campus days, he went to his hostel room, met teachers and interacted with students.
"Of course," was his answer when asked whether he bunked classes.
"We used to stay up late at night and in the morning missed classes," he recalled.
Pichai said he gets shocked on hearing that some eighth-grade student has started preparing for IITs.
"During my time, lot of people said this person didn't get into this college and that's the end of the road for him," he recalled.
He advised students of his alma mater to try out different things, take risks, be well-rounded and follow their passion.
India, however, he said, has a strong foundation in education as parents talk about it all the time.
In America, Pichai said, at Stanford for example, students choose majors only when they are in their last year.
After completing his B.Tech in metallurgical and materials engineering from IIT, Pichai did his M.S. in Engineering and Materials Science from Stanford University and an MBA from the Wharton School and joined Google in 2004.
It was during this time in the campus that he fell in love with his classmate Anjali and married her later.
He recalled how he used to go to the girls' hostel to meet her and got embarrassed when someone would shout loudly, saying "Anjali Sundar is calling you".
After spending four great years in the campus, he said, he felt sad when time came for leaving.
"It is phenomenal to come back 23 years later," an emotional Pichai said.
(Except for the headline, this story has not been edited by NDTV staff and is published from a syndicated feed.)