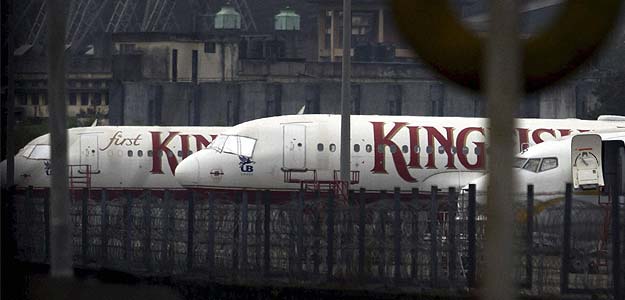 New Delhi:
High net-worth individuals (HNIs) continued their buying spree in Kingfisher Airlines' shares in the September quarter, even as the carrier remained grounded for over a year after its licence was suspended.

However, small investors and foreign institutional investors (FIIs) reduced their respective exposure to the
beleaguered airlines in the quarter that ended September 30.

High net-worth individuals raised their stake in the cash-strapped company to 20.3 per cent at the end of the September quarter from 19.52 per cent in the preceding three months, as per stock exchanges data.

HNIs (individuals with shares worth over Rs 1 lakh) have been raising their respective stakes in the Vijay Mallya-led Kingfisher Airlines since April-June quarter of 2012.

The latest shareholding data of Kingfisher Airlines also shows that the number of HNI shareholders have increased considerably during the period. The number of HNI shareholders stand at 4,404 from 4,269.

Burdened by huge losses and large debts, the airline stopped flying in October last year and its flying licence also lapsed about two months later.


Lenders have also begun their recovery process of close to Rs 8,000 crore worth loans. The company's accumulated losses have ballooned to over Rs 16,000 crore. Kingfisher has never posted any profit since starting operations in 2005.
The company currently carries a market value of more than Rs 450 crore, from a peak valuation of close to Rs 10,000 crore at one point of time. Its shares are currently trading below Rs 6, from close to Rs 20 late last year. It was near Rs 75 per share even few years ago.
Small investors (defined as those holding up to Rs 1 lakh worth shares in a company), trimmed their holding marginally in Kingfisher Airlines to 22.34 per cent during July-September from 22.41 per cent in the April-June quarter, while FIIs' (foreign institutional investors) stake declined to 0.02 per cent from 0.07 per cent.
According to the company's shareholding pattern, the six promoters together hold over 32 per cent stake, although nearly 90 per cent of their holding is pledged with lenders.