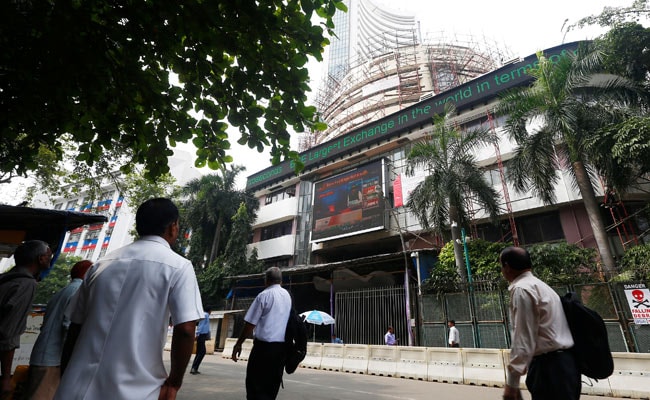 Strong
GDP data
for the October-December quarter helped Sensex overcome weak global markets on Thursday. The BSE benchmark index Sensex edged over 50 points higher while the Nifty was trading above the 10,500 mark in early morning deals. India regained its status as the world's fastest growing major economy in the October-December quarter, surpassing China for the first time in a year as government spending, manufacturing and services all picked up. Asia's third-largest economy grew 7.2 per cent in the December quarter, its fastest in five quarters, Ministry of Statistics data showed on Wednesday. That beat China's 6.8 per cent and a forecast of 6.9 per cent by analysts polled by Reuters.
Gains were led by some buying witnessed across metal, auto and capital goods stocks. Among the Nifty 50 stocks, Tata Steel, Bajaj Auto, Ambuja Cements, Aurobindo Pharma and IndusInd Bank were the top gainers - up around 1-1.5 per cent. At 9:33 am, 34 stocks on the 50-scrip Nifty index were trading in the positive zone. Mahindra & Mahindra, Tata Motors, ONGC and Adani Ports were among other gainers.
Asian stocks fell on Thursday after Wall Street marked its worst monthly performance in two years as the impact from new Federal Reserve chief Jerome Powell's hawkish-sounding comments reverberated across the broader risk asset markets. Investors have been on edge in recent weeks amid concerns higher interest rates in advanced economies, led by the United States, could dent world growth.
Mr Powell, in his first public appearance as head of the US central bank, had vowed on Tuesday at a congressional hearing to prevent the economy from overheating while sticking with a plan to gradually raise interest rates. Those comments rekindled speculation in the equity markets about the pace of US monetary tightening this year being more rapid than expected, amid concerns that higher borrowing rates could crimp corporate activity and cool economic growth.
MSCI's broadest index of Asia-Pacific shares outside Japan was down 0.35 per cent and headed for its third day of losses.
The losses in Asia came amid a broad selloff on Wall Street, where the Dow and S&P 500 capped their worst months since January 2016 overnight after suffering sharp losses early in February.
The Dow scaled an all-time high late in January, before falling about 12 per cent from the peak at the start of February as a rise in US yields to multi-year highs unnerved Wall Street. It went on to recover a bulk of those losses before the rebound stalled following Powell's comments.
The Fed's last round of economic projections in December pointed to three rate increases this year, but views expressed by Powell prompted investors to increase bets on four rate increases in 2018.
(With agency inputs)