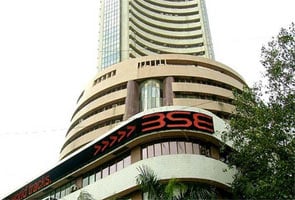 3.31 p.m. Indian stock market closed for Friday. Nifty closed provisionally at 6693.40 up 51.65 points and Sensex closed at 22315.01 up 100.64.
03.10 a.m. Markets back near record highs. Sensex up 115 points. Nifty up 50 points, hovering around 6,700 levels. Bank Nifty bounces back, up 1.1 per cent. PSU banking index up over 4 per cent. (Track markets)
02.45 p.m. Sarvendra says another 7-8 per cent gains are possible in Punjab National Bank, SBI and Bank of Baroda (in order of preference). Private banks may see some correction. If rupee breaks 60 per dollar, large cap IT stocks may correct 6-8 per cent.
02.40 p.m. Phani Shekhar of Angel Broking says long term investors should start buying state-run banks, maybe on dips after 2-3 months and depending on the new dispensation in New Delhi. SBI is the best bet among PSU lenders. It is proxy to entire banking sector and has good asset quality as compared to its large and midcap PSU peers.
02.32 p.m. Markets trading with modest gains. Sensex up 23 points, Nifty up 18 points at 6,660. State-run lenders continue to trade with strong gains. PNB is back at the top of the Nifty, up 4.55 per cent. Bank of Baroda up 3.7 per cent, SBI up 2.9 per cent.

Cement stocks also seeing traction today. Ultratech up 3.8 per cent, Grasim Industries rises 3 per cent and ACC up 2.85 per cent. Ambuja Cements up 2.5 per cent. Among the losers, HDFC down 1.4 per cent, Cairn India down 1.2 per cent. HUL and JSPL also traded with over 1 per cent losses.

Large cap IT stocks have given up gains and are now trading lower. (Track top gainers and losers)
01.50 p.m. Top brokerage calls for today,

Kotak maintains add on State Bank of India. Target Rs 2,050. (Read)

Credit Suisse maintains neutral on Bharti Airtel. Target Rs 263. Read


Goldman Sachs maintains buy on Jubilant Food. Target Rs 1368 (
Read
)
CLSA initiates coverage on Ramco Cements with a buy. Target Rs 260. (
Read
)
UBS downgrades Prestige Estate to neutral. Target Rs 181. (
Read
)
1:38 p.m.
Broader indices Sensex and Nifty back into positive again. Except FMCG index, all sectoral indices are trading with gains.(
Track markets
)
1:05 p.m. Neelkanth Mishra of Credit Suisse says markets are moving for the wrong reason. A new government cannot revive the investment cycle quickly. It takes 6-8 years to revive the investment cycle for a new government, he added. Credit Suisse says defensive stocks will be back in demand by the end of the year. Export oriented sectors like IT, pharma and consumer staples are Credit Suisse's top picks. (Read full Story)
12.19 p.m. Markets fall as profit taking emerges in recent gainers. Sensex down 20 points at 22,194; Nifty up 5 points at 6,647.(Track markets)
Capital goods, healthcare stocks fall 0.7 per cent. Bank Nifty off day's high.
11:59 a.m. NSE's Midcap index is up around one per cent against Nifty's 0.2 per cent gain. Union Bank is the major gainer in the NSE's midcap index and trading with a gain of 7.25 per cent.
11.30 a.m.India Cements shares jump over 7 per cent after Supreme Court says will not stop the Indian Premier League. BCCI chairman N Srinivasan is the Vice Chairman & Managing Director of India Cements, which owns Chennai Super Kings team in IPL. (Track stock)
11.05 a.m. Markets are choppy today, possibly on account of some profit taking after a record rally. Sensex up 20 points at 22,234, Nifty up 15 points at 6,657. PSU lenders continue to trade with strong gains. On the Nifty, Ultratech Cement, up 3.75 per cent, has replaced PNB as the top gainer. (Track markets)
10.12 a.m. IT stocks on track for first gains in six sessions. HCL Technologies up 2.2 per cent, Infosys is up 0.7 per cent and Tata Consultancy Services gained 0.6 per cent. (Read what has changed the sentiment)
09.48 a.m. 09.48 a.m. Markets are now trading well off the day's high. The Sensex is up just 20 points, Nifty up 11 points. FMCG and capital goods stocks under selling pressure.
09.24 a.m. Banking stocks, especially PSU banks, leading the rally for a second straight day. CNX PSU Bank index is trading up 3.3 per cent as against a 1.1 per cent rise in the Bank Nifty. Among other sectors, realty stocks also seeing good buying interest.
Top three Nifty gainers: PNB top Nifty gainer, up 3.8 per cent, SBI up 3.1 per cent, Bank of Baroda, up 3.1 per cent. (Track top gaines and losers)
Top Nifty losers include JSPL, down 1 per cent, ITC, down 0.7 per cent.
09.15 a.m. Markets hit record high for fifth straight day. Sensex gains over 100 points, Nifty up 40 points.
09.10 a.m.Market outlook: Most analysts NDTV spoke to said investors should book partial profits after the sharp run up.
Gaurang Shah of Geojit BNP Paribas says it's prudent to take money home especially in PSU banks. State-run banks have jumped on the back of Basel norms getting postponed by one year, but asset quality concerns for these lenders have not gone away completely. Oriental Bank of Commerce and Canara Bank are good names to short.
Deven Choksey, managing director at K R Choksey Securities says profit-booking cannot be ruled out at these levels, but it remains a buy on dips market due to flows and macro improvement.
Sarvendra Srivastava says Nifty is trading close to target range of 6,700-6,800, while the Bank Nifty has met the target range. Gradual profit taking around the next two sessions advised, he said. Nifty reversals at 6,544.
Sarvendra's top picks:
1) Exide Industries: Buy with a target of 130 and a stop loss of 116.4.
2) BPCL: Buy with a target of 480 and a stop loss of 442.4.
3) Canara Bank: Buy with a target of 270 and a stop loss of 239.4.
08.30 a.m. Stocks to watch include Tech Mahindra and United Spirits, which have become a part of the Nifty index from today. Jaiprakash Associates and Ranbaxy Laboratories have moved out of Nifty. United Spirits shares have gained 12.35 per cent since February 28, when the National Stock Exchange (NSE) announced the changes to its bluechip index. (Read the full story here)
08.15 a.m. Indian stock markets are trading at record highs on the back of huge liquidity. Foreign investors bought shares worth Rs 2,192 crore on Thursday, while DIIs sold shares worth Rs 592 crore.
08.00 a.m. Indian stock markets rose to record highs for a fourth straight session on Thursday. Higher rollovers on an absolute basis coupled with high roll cost during the expiry of March derivative contracts also lent support and indicates market participants are bullish for the April series, dealers said.
Besides the Reserve Bank of India's policy review on April 1, where it is widely expected to keeps rates unchanged, investors say the forthcoming general elections would act as the next key catalyst for markets.
Overseas investors have helped underpin gains, with net purchases in shares reaching $2.75 billion so far this month. (Read the full story here)
The Nifty rose as much as 1.1 per cent to an all-time high of 6,673.95, while the Sensex gained 0.96 per cent to a lifetime high of 22,307.74. The Sensex closed 0.54 per cent higher, while the Nifty ended up 0.61 per cent.