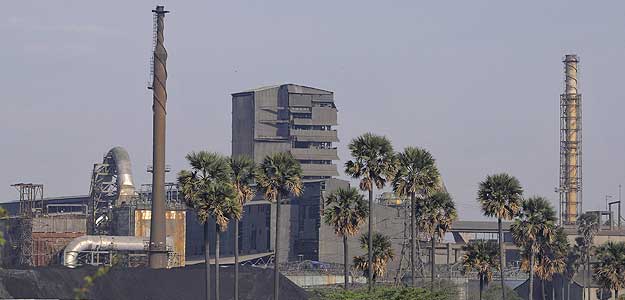 New Delhi:
An environmental report into India's biggest copper smelter found no major irregularities in its operation or any negative impact on air quality during an inspection, but calls for safety audits, regular maintenance and better air quality monitoring.
The report, commissioned by the environment court considering whether Sterlite Industries' smelter should remain in operation, will be used by Judge Swatanter Kumar to reach a ruling. The case resumes on July 15.
India was forced to boost copper imports when the smelter, which accounts for over half of the country's refined copper output, was closed for more than two months from March 30, after residents protested about of air pollution.
The plant, which produces 30,000 tonnes of copper per month, re-opened on an interim court order on June 16.
The Indian smelter has long been the target of protesters and politicians, who call it a risk to fisheries in the coastal town of Tuticorin, near the southern tip of India.
The court-commissioned environment report, seen by Reuters, also called for a mechanism to inform residents near the plant in the event of an accident.
On the issue of air quality, it said "not much inference can be drawn as regard to the contribution of emissions from the plant to the ambient air quality considering that the wind velocity during the period (of inspection) was very high, which helped in immediate dispersion of the pollutants".
It said sulphur dioxide emissions were within allowable limits during the inspection period.
The company says the smelter, which has been operating at fully capacity since it restarted, does not have emissions above prescribed limits. Sterlite's parent Vedanta Resources Plc is also exporting 4,000 tonnes of refined copper a month from Dubai to India, the company source said.
Several cases have been filed against Sterlite since its Indian smelter started in 1996. In a different case, India's top court in April fined the company about $18 million for breaking environmental laws at the smelter.
Sterlite, whose parent is controlled by billionaire Anil Agarwal, has been waiting for government clearances to double the capacity of the smelter to 800,000 tonnes a year.
India's cable makers such as Finolex Cables Ltd and Precision Wires India Ltd have traditionally bought copper from the two biggest producers, Sterlite and Hindalco Industries Ltd.
Copyright: Thomson Reuters 2013