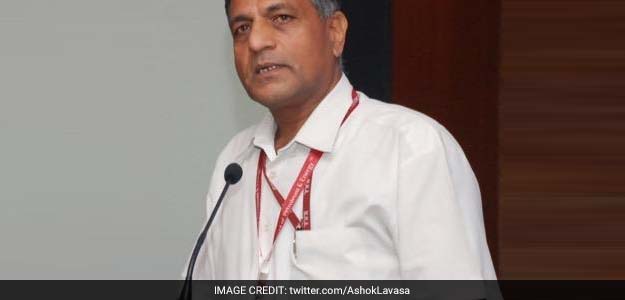 New Delhi:
States are on board to switch from 'Plan/non-Plan' budgeting to 'revenue/capital' spending from April 2017 and most will align their budgets accordingly, Finance Secretary Ashok Lavasa said on Tuesday.
In a meeting with state finance secretaries last week, Lavasa addressed their concerns, saying state schemes can be shown in their respective budgets.
"States have given positive response (on doing away with Plan, non-Plan differentiation). We have explained to them the changing of the format. The states are on board," Lavasa said.
Asked about the concerns of the states, he said they only sought to figure out if their own schemes can be reflected in a way they want to.
"We said yes. They (states) can reflect their schemes. Our (Centre's) part is only as far as centrally sponsored schemes (CSS) are concerned," Lavasa said.
CSS are implemented with the domain of national development agenda identified by the Committee of Chief Ministers. They can have both central and state components.
Asked if state budgets will also change over expenditure clarification in the Budget, Lavasa said states are expected to automatically switch from Plan/non-Plan classification to capital and revenue.
"It is up to them. After all, the states have their own budget, they have their own Assemblies. Considering the fact that the Government of India (is changing the expenditure classification), many states might think of changing," he said.
Finance Minister Arun Jaitley had in 2016-17 Budget said the government had decided that the Plan/non-Plan classification will be done away with from 2017-18 and the Finance Ministry will work with the state finance departments to align central and state budgets on this matter.
"A broad understanding over the years has been that Plan expenditures are good and non-Plan expenditures are bad. This results in skewed allocations in the Budget. We need to correct this and give greater focus to revenue and capital classification of government expenditure," Jaitley had said.
As part of the revamped expenditure categorisation, administrative expenses are likely to be classified as 'revenue expenditure' while public money spent on grants for creation of assets may be classified as 'capital expenditure'.
The rolling out of new expenditure classification from 2017-18 will be in sync with the end of the 12th five-year Plan period in March 2017.
Against the backdrop of the abolition of Planning Commission and setting up of NITI Aayog, the classification of expenses as Plan/non-Plan is about to lose its relevance.
In 2011, an expert committee headed by C Rangarajan had proposed that the distinction between Plan and non-Plan expenditure be abolished for both the Centre and states.
Also, the Expenditure Management Commission, headed by Bimal Jalan, has recently suggested that all expenditure be classified as revenue and capital.
(This story has not been edited by NDTV staff and is auto-generated from a syndicated feed.)