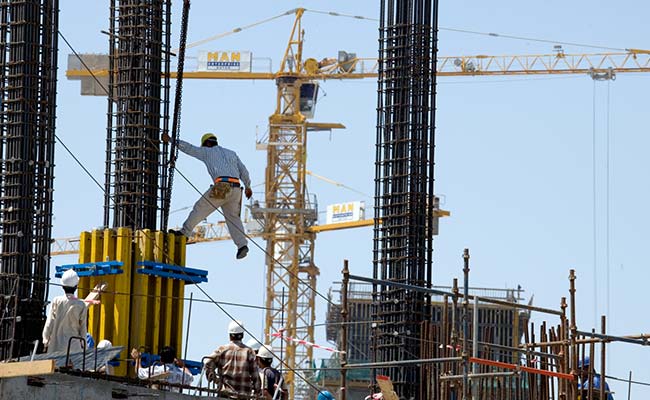 The state governments' actual capital expenditure spending on infrastructure development could decline by up to 40 per cent as the coronavirus pandemic continues to impact revenue collections, credit ratings agency ICRA said in a research report. States have cumulatively budgeted a lower capital outlay of Rs 5.7 lakh crore for infrastructure spending in the current financial year, 2020-21, compared to Rs 5.1 lakh crore in financial year 2019-20.
State governments play a significant role in the overall infrastructure development across the country and have been a critical player in the growth of the construction sector over the years.
States have contributed 37-40 per cent of the total infrastructure investment in the country. Out of the infrastructure investments worth Rs 111 lakh crore planned under the National Infrastructure Pipeline (NIP), about 40 per cent is from the state governments, according to ICRA.
Few larger states have put a greater focus on infrastructural development with the emphasis being on the transportation segment, it added.
The transportation segment accounts for over 24 per cent of capital outlay, followed by irrigation (19 per cent), and water supply, sanitation, housing and urban (15 per cent).
Here some other key findings of the report:
As COVID-19 has brought a slowdown in economic activities, states are looking at a decline in their own revenue. The tax revenues of states in 2020-21 could be sharply lower than budgeted due to curtailed consumption.
In order to bridge the shortage, the unconditional borrowing limit for states has been raised from 3 per cent of gross state domestic product (GSDP) to 4 per cent of GSDP for 2020-21. States also have the option of availing another 1 per cent of the GSDP on completing specified reforms. Even then, there is likely to be a shortfall, part of which can be bridged by the additional loans from the Centre due to GST compensation.
For supporting capex, the Central government had also announced a special interest-free 50-year loan to states for capital expenditure of Rs 12,000 crore to be spent till March 2021.
Overall, the states may still face a shortage between Rs 0.5-2.3 lakh crore in 2020-21, depending upon the extent of the borrowings availed and the reforms completed.
The cutdown of the capex will have an adverse impact on the construction companies, which depend on state government projects. While new project investments could decline in 2020-21, the bill realisation for the ongoing projects could also get delayed, which may impact the execution of these projects.