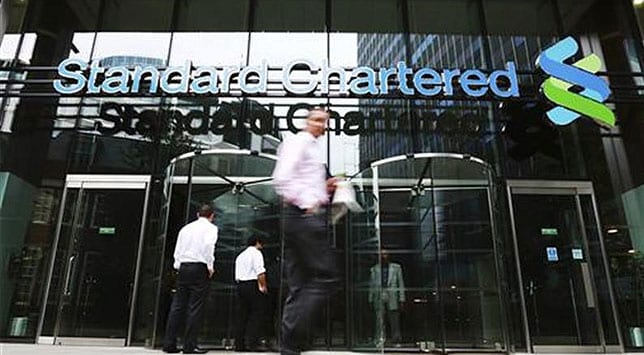 Highlights
Infosys has asked the US court to not consider emails submitted by Jack Jay Palmer as evidence in the visa fraud case, alleging that the documents were forged. However, in an exclusive interview with NDTV, Palmer's attorney, Kenny Mendelsohn, dismissed In
Mumbai:
Standard Chartered won some help from Britain's central bank governor on Wednesday in its fight-back against the New York banking regulator's allegations that it had hidden $250 billion of transactions with Iran.

The London-based bank lost more than a quarter of its market value in 24 hours after the New York State Department of Financial Services threatened late on Monday to strip it of its state banking licence, dubbing it a "rogue institution" for breaking US sanctions against Iran.

The bank's top executives were working on its defence strategy on Wednesday, having already contested the regulator's figures, saying only a tiny proportion of the Iran-related transactions—less than $14 million—were questionable under US sanctions rules.

Bank of England governor Mervyn King drew unfavourable comparisons on Wednesday between this case and other US action against British banks, such as the interest rate-manipulating investigation into Barclays.

In the Barclays case, all regulators in Britain and the United States produced coordinated reports after the investigation was complete, he said, but in Standard Chartered's case, "one regulator but not the others has gone public while the investigation is still going on".

Sources familiar with the matter told Reuters that the New York regulator Benjamin Lawsky had angered officials at the US Treasury Department and Federal Reserve by going it alone.

"I think all the UK authorities would ask is that the various regulatory bodies that are investigating the particular case try to work together and refrain from making too many public statements until the investigation is completed," said King.

Standard Chartered shares were up 7.4 per cent at £1,319.5 on Wednesday, boosted by the apparent disunity among US regulators, though they were still about 17 per cent down since Lawsky made the allegations.

F-word rant
On Monday, Lawsky had reproduced what he said were quotes from an unidentified Standard Chartered executive in a conversation in 2006 that demonstrated the bank's "obvious contempt" for US banking regulations.

"You f---ing Americans. Who are you to tell us, the rest of the world, that we're not going to deal with Iranians?" the quote read.

A source familiar with the situation said the bank's group finance director Richard Meddings, one of five executive directors at the time, was the unnamed man.

Meddings did not respond to repeated requests for comment.


A spokesman for Standard Chartered in London said: "This is not a quote we recognize as coming from Richard or any other of our directors."
The bank emphasized that the remark was "something someone said had been said" and did not appear in any document.
King said he did not share the view held by some that the move was part of a concerted US effort to undermine London as a financial centre, following the Barclays probe and a US Senate panel report that criticized HSBC Holding's efforts to police suspect transactions.
One British lawmaker said the affair was part of a "political onslaught" in the United States against British banks.
"I think it's a concerted effort that's been organized at the top of the US government. I think this is Washington trying to win a commercial battle to have trading from London shifted to New York," said John Mann, a member of parliament's finance committee, who also called for a parliamentary inquiry.
A British executive at an institution that ranks among the top 25 shareholders in Standard Chartered also said politics was motivating US officials.
"Are we starting to see an anti-London bias in US regulatory activities?" the executive asked. "Oh yes. Is there any subtle form of banking sector protectionism going on? Yes."
One of Standard Chartered's top 10 shareholders said it was surprising that the bank had been caught up in the scandal, given that the bank had reassured investors it was clean and had a "superior culture".
"I get the impression that they do think a lot about risk, or at least they communicate that to investors, and so it is quite interesting that they have tripped up on a risk thing. According to the DFS, they were undertaking such activities knowing what the risks were."
Copyright: Thomson Reuters 2012