SpiceJet is set to launch daily flights from Delhi to Tirupati. SpiceJet will start the new daily flights - from Delhi to Tirupati - from February 20, 2018, the airline said on its website - spicejet.com. SpiceJet had earlier reported a 32 per cent increase in its net profit at Rs 240 crore for the October-December quarter. The new daily flights by SpiceJet come at a time airlines operating in the domestic civil aviation market are seeing aggressive competition amid robust growth in passenger traffic.
New routes, new reasons to fly! SpiceJet is introducing daily flights from Delhi to Tirupati from 20th February, 2018. Fares starting at Rs 3738 only! Book your tickets on https://t.co/PykmFjYcix now. #NewFlights#SpiceJetpic.twitter.com/MsS09ExSAa

— SpiceJet (@flyspicejet) February 2, 2018
SpiceJet is offering fares starting at Rs 3,738 on the new daily flights from Delhi to Tirupati, the airline said on microblogging site Twitter. The airline also said bookings for the new daily flights from Delhi to Tirupati were open.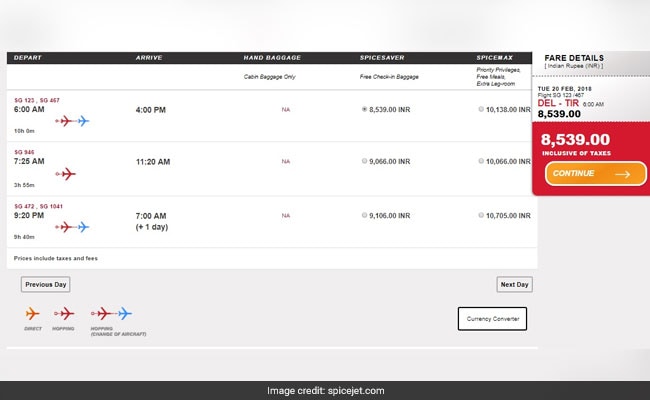 A search on the SpiceJet bookings portal on Thursday showed tickets for flights from Delhi to Tirupati on February 20 were available for booking from Rs 8,539.
SpiceJet's total income from operations rose 27 per cent to Rs. 2,081.95 crore for the December quarter - the 12th successive profitable quarter for the airline. That was also the highest ever quarterly profit in the history of the airline, SpiceJet had said.
SpiceJet plans to add 12-15 Boeing 737 aircraft and 6-9 Bombardier Q400 aircraft to its existing fleet by December 2018. SpiceJet's existing fleet comprises 38 Boeing and 22 Bombardier Q400 aircraft, according to a press release dated February 7. The new generation Boeing 737 Max aircraft will start delivering from August 2018 that will reduce the overall costs by around 8-9 per cent on each aircraft, SpiceJet had said while reporting its earnings for the December quarter.
Increasing passenger traffic growth has led many airlines to expand operations.
Domestic airlines carried 1,171.76 lakh passengers in 2017, as against 998.88 lakh in the previous year, registering a year-on-year growth of 17.31, according to data from aviation regulator DGCA (Directorate General of Civil Aviation).