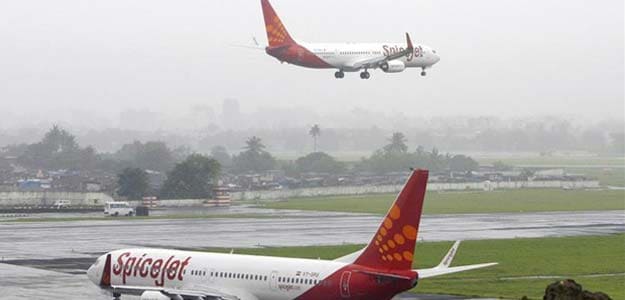 SpiceJet shares fell as much as 18.5 per cent to Rs 13.60 on Wednesday after media reports said the domestic carrier is facing a severe financial crisis.
Aviation regulator Directorate General of Civil Aviation has reportedly sought details on vendor dues from the company to ascertain the airline's financial condition. The regulator is also doing an engineering audit of SpiceJet to determine the quality of maintenance of its aircraft and availability of spares, reports said.
Over the last eight years, SpiceJet has posted annual profits only twice and its total accumulated losses from fiscal year 2007-08 to 2013-14 stand at nearly Rs 2,200 crore. The carrier's total debt as of March, 2014 stands at Rs 1,738 crore.
SpiceJet said in May that it was in "advanced" talks to get funding, after reporting its biggest annual loss since it started flying.
Most carriers in India, with the exception of IndiGo, are making losses. According to Centre for Asia Pacific Aviation, Indian carriers lost a combined $1.3 billion (Rs 7,800 crore) in the year to March, 2014.
Last month, Malaysia-based carrier AirAsia Bhd's Indian joint venture became the seventh operational carrier in India, while Singapore Airlines' joint venture in India is likely to start flying this year, increasing competition.
SpiceJet shares closed 16 per cent lower at Rs 14, underperforming a 0.5 per cent gain in the broader Nifty. Among other carriers, Jet Airways closed 2 per cent lower at Rs 245, while grounded Kingfisher Airlines ended 0.65 per cent lower at Rs 3.05.
(With inputs from Reuters)