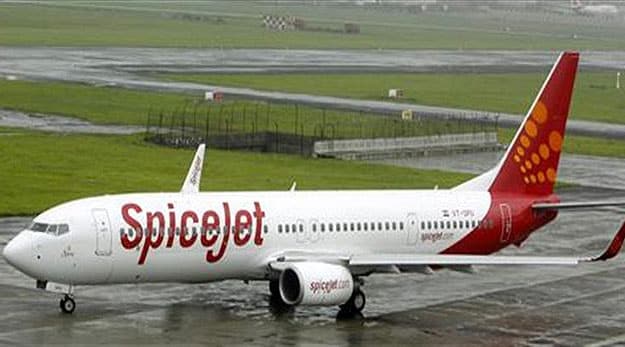 Hours after the government threw a lifeline at loss-making airline SpiceJet, asking airport operators and fuel suppliers to give it more time to pay its bills, the country's second largest budget carrier has been grounded on Wednesday morning, with oil companies stopping jet fuel supply to it.
Shares in the company fell 8 per cent in morning trade today. (Track stock)
"All flights impacted for now," Sun group CFO SL Narayanan told NDTV. SpiceJet is controlled by billionaire Kalanithi Maran's Sun group.
"Apologizes for disruption and pain caused to passengers due to stoppage of fuelling for our flights by the oil cos, (sic)," SpiceJet tweeted on Wednesday.
The company COO or chief operating officer also took to twitter and said SpiceJet is working on a resolution.
"We are working to resolve the issue. Our dues to oil cos 14 cr; we spend 3,000cr+ a year on fuel and have never defaulted (sic)," Sanjiv Kapoor, COO, SpiceJet tweeted.
On Tuesday, there was chaos at airports with many SpiceJet flights cancelled or delayed for over five hours when oil companies reportedly suspended supply of fuel. Flight operations had resumed later in the day. (Read: SpiceJet Cancellations Trigger Chaos At Airports)
SpiceJet has a liability burden of over Rs 2,000 crore and owes money to airports, oil companies as well as employees. In a crisis reminiscent of the high-profile downfall of Kingfisher Airlines - which left billions of rupees of debts and unpaid wages - SpiceJet has been battling refunds for customers, forced flight cancellations and a government-imposed ban on advance bookings for travel more than 30 days away.
Seeking to avoid another embarrassing airline collapse, the Civil Aviation Ministry said late on Tuesday that the Directorate General of Civil Aviation or DGCA would be asked to allow SpiceJet to sell advance tickets until March 31, 2015. (Also read: SpiceJet Allowed to Take Bookings Till March 31 by Regulator)
It also said that airport operators would be asked to give SpiceJet 15 days to make payments, while state oil companies would be asked to give credit for up to 15 days.
Banks or other financial institutions could be asked to lend up to Rs 600 crore ($94 million) - backed by the personal guarantee of SpiceJet chairman Kalanithi Maran, a billionaire media tycoon, it said.
The ministry said SpiceJet would have to commit to raising capital itself as soon as possible. Tuesday's measures, it said, were aimed at avoiding a collapse that it said would be a "major setback" for the sector.
SpiceJet, which has been in the red since last year, has already cut the size of its fleet by a third since September and cancelled more than 70 flights a day for the rest of this year.
On Monday, SpiceJet had sought the government's help to overcome its crisis.(Read: Government Comes to SpiceJet's Rescue, Airline Gets More Time to Pay Bills)
(With inputs from agencies)