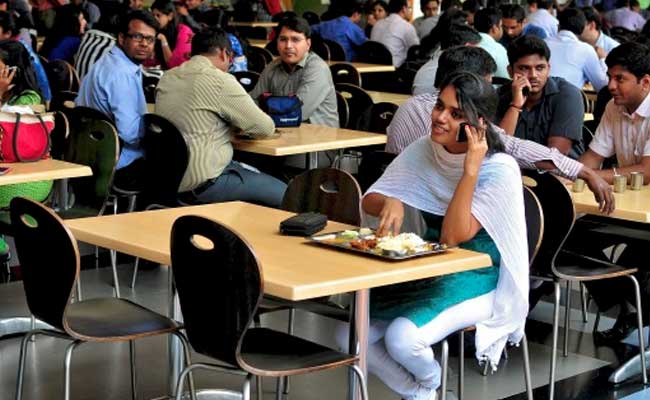 New Delhi
: The country's biggest-ever spectrum auction got a muted response with the government receiving bids worth Rs 65,789 crore for 965 MHz of airwaves. The government had put airwaves worth Rs 5.6 lakh crore (base price) up for sale.
The auction ended on Thursday, just after five days and 31 rounds of bidding. Analysts attributed the steep price of the premium 700 MHz band for the muted response. There were no takers for the 700 MHz band.
In comparison, the spectrum auction last year had lasted for 19 days and attracted bids worth Rs 1.1 lakh crore. Similarly, the auction conducted in 2010 for 3G airwaves had lasted for 34 days.
Seven operators were in the fray - Reliance Jio, Bharti Airtel, Vodafone, Idea Cellular, Tata Teleservices, Reliance Communications and Aircel.
Altogether, a total of 2,354.55 megahertz of mobile frequencies were up for auction in the 700 MHz, 800 MHz, 900 MHz, 1800 MHz, 2100 MHz, 2300 MHz and 2500 MHz bands.
The government will get an upfront payment of Rs 32,000 crore from the spectrum sale, the highest-ever in the last five years, Telecom Minister Manoj Sinha said.
Most of the bidding action was concentrated in the 1800 MHz band.
The premium 700 MHz band - considered to be most efficient for high speed internet and data services - was up for auction for the first time. Nearly Rs 4 lakh crore (at base price) was to come from the sale of 700 MHz band.
India's biggest telecom operator Bharti Airtel said it has acquired 173.8 MHz spectrum across 1800/2100/2300 MHz bands for a total consideration of Rs 14,244 crore. Reliance Jio Infocomm said it bought airwaves worth Rs 13,672 crore in the auction. Idea Cellular said it spent Rs 12,798 crore.
The base price of one MHz of the 700 MHz band was nearly Rs 11,500 crore, almost four the times the price of the 1800 MHz band.
(With agency inputs)