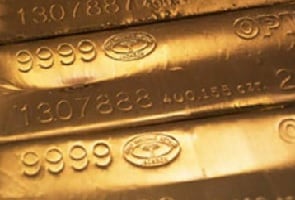 Pune: The Singapore Exchange is planning to launch a physically deliverable gold contract for wholesalers in the next 1-2 months to meet demand in Asia, the top consumer of the precious metal.

"We are planning to list the first wholesale kilobar gold contract on SGX (The Singapore Exchange) in the next 1-2 months. It will be a six- day contract with a physical delivery on T+2 basis," SGX associate director-commodities Derek Neo told PTI on the sidelines of the 11th International Gold Convention in Pune.

The size of the contract will be 25 kilos, available for trading only for three hours a day from 8.30 a.m. to 11.30 a.m. at Singapore time, he added.

The bourse is expecting good volumes as Asia is becoming big trader in kilobar.

"This will also benefit Indian traders as they will be able to see the price trend of gold kilobar when the Singapore market for gold closes at 11.30 a.m." he said.

Stating that the intention of launching the contract is to get the benchmark price for kilobar gold in Asia, Mr Neo said that currently, there is no benchmark for kilobar gold in Asia.


The only price benchmark for gold right now is London 'fix', which has come under intense scrutiny by regulators. The exchange plans to launch a few more products based on the response to the 25 gold kilobar contract, he added.
Asked how India will benefit from this contract, Mr Neo said, "India is a net importer of gold. I think the contract is going to provide another avenue to source quality gold based on transparent price basis."
China and India account for more than half of global gold consumption, but Asia still largely relies on the London fix for reference.
SGX had earlier offered rolling gold contract for retailers for a very brief period after it acquired the Singapore Commodity Exchange during 2007-08.
SGX is located in Singapore and provides different services related to securities and derivatives trading mainly centred on Asia's three largest economies - China, India and Japan. SGX is also a member of the World Federation of Exchanges and the Asian and Oceanian Stock Exchanges Federation.