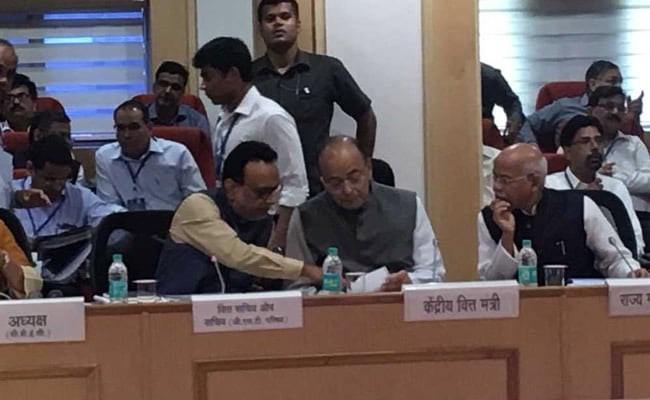 Though the GST Council decided to rollout the E-way Bill from April 1, the council seemingly fell short of the industry expectations by not making the GST filing process simpler on Saturday. The GST Council, in its 26th meet, could not decide on a simplified GST return form and entrusted a ministerial panel under Sushil Modi, finance minister of Bihar, to chalk out a single page form which is simpler and evasion proof, reported PTI.
26th GST Council Meet. Ten Things To Know
The Goods and Services (GST) Council was expected to simplify the return filing process on Saturday, however, it didn't happen.

A group of ministers (GoM) will look into the tax filing process and consult tax experts before taking a call, among other decisions, Union Finance Minister Arun Jaitley tweeted.

Union Finance Minister Arun Jaitley on Saturday, after the GST Council meet, said the electronic way or e-way bill for movement of goods between states will be implemented from April 1.

Though E-way bill will be rolled out from April 1, for intra-state movement, the e-way bill would be rolled out in a phased manner starting April 15, and will cover all the states by June 1.

In the council meet that took place on Saturday, the Arun Jaitley-chaired panel extended the existing system of filing returns (GSTR-3B) by another three months till June.

Tax exemptions to exporters have been extended by six months to September.

On February 24 this year, Bihar's deputy chief minister and state finance minister Sushil Modi had said that the e-way bill would be made mandatory from April 1. A step in that direction was taken in the council meet on Saturday.

In the 23rd GST council meeting, it was decided that filing of GSTR-2 and GSTR-3 forms would stop and only the filing of GSTR-1 and GSTR-3B would continue.

The present return filing system is considered cumbersome for tax payers and cost of compliance has gone up mainly because people are not able to handle the present system of filing returns.

The former UIDAI chief and Infosys co-founder Nandan Nilekani had made some recommendations that instead of supplying invoices to be uploaded, a module can be formed where supplying invoice details can be posted, and based on the invoice data fed by the supplier, the system by itself generates the return.