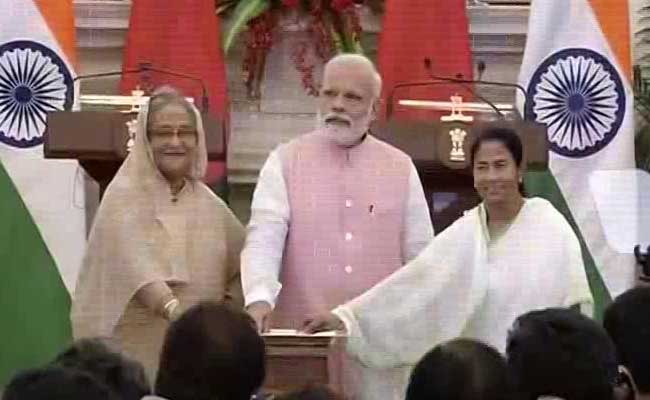 New Delhi:
In a significant boost to strategic cooperation, India and Bangladesh on Saturday signed 22 agreements, including as many as five on defence cooperation, while New Delhi extended to Dhaka lines of credit worth $5 billion following bilateral talks headed by Prime Minister Narendra Modi and his Bangladeshi counterpart.
The two countries also signed a historic civil nuclear cooperation agreement while PM Modi assured Sheikh Hasina of an "early solution" to the Teesta waters sharing issue.
"Today, we have also taken a long overdue step by signing an agreement on close cooperation between our armed forces," PM Modi said while jointly addressing the media with Sheikh Hasina following the talks.
"I am also happy to announce a line of credit of $500 million to support Bangladesh's defence-related procurement. In implementing this line of credit, we will be guided by Bangladesh's needs and priorities," he said.
He also announced a separate line of credit of $4.5 billion for the implementation of projects in priority sectors for Bangladesh.
PM Modi assured the people of Bangladesh of India's "commitment and continuing efforts" to solve the vexed issue of sharing the waters of river Teesta, which has been opposed by West Bengal Chief Minister Mamata Banerjee.
"I firmly believe that it is only my government and Excellency Sheikh Hasina, your government, that can and will find an early solution to Teesta water sharing," he said.
He appreciated Bangladesh's efforts to contain radicalism and religious extremism and said: "We have the greatest admiration for Prime Minister Sheikh Hasina's firm resolve in dealing with terrorism. Her government's 'zero-tolerance' policy towards terrorism is an inspiration for all of us."
At a separate event to honour Indian martyrs in the 1971 Bangladesh Liberation War, without naming Pakistan, Modi said that "there is an ideology in South Asia which promotes terrorism, and thus obstructs growth in the whole region".
In his statement to the media, he said that energy security was an important dimension of the two countries' development partnership.
A joint statement issued later said: "The two Prime Ministers also expressed their appreciation for the growing bilateral cooperation in the field of civil nuclear energy, especially in training and capacity building. In this regard, the leaders welcomed the signing of the inter-governmental agreement for cooperation in the field of civil nuclear energy and other agreements related to nuclear cooperation."
On her part, Sheikh Hasina appreciated PM Modi "for his dynamism and innovative ideas that are not only taking India forward but adding value to our our bilateral relationship".
She also reiterated her commitment for a peaceful border with India free of crime.
At the event to honour the Indian martyrs, she said: "I am grateful to the government and people of India for their contribution to Bangladesh's War of Independence. Many Indian soldiers sacrificed their lives... We will always remember them with gratitude."
PM Modi and Sheikh Hasina jointly launched train and bus services between Kolkata and Khulna in Bangladesh and restored the once defunct Radhikapur-Biral rail link between the two countries.
Both of them also released a Hindi translation of "Unfinished Memoirs", the autobiography of Bangladesh's founder Sheikh Mujibur Rahman, who was Sheikh Hasina's father.
Later, briefing the media, Foreign Secretary S. Jaishankar said that the $4.5 billion credit line is one of the biggest credit lines ever offered by India to any country.
He said that 17 projects have been identified for utilisation of the new line of credit. India had earlier extended two lines of credit of $862 million and $2 billion to Bangladesh.
He said that 12 more agreements are expected to be signed at a business forum to be held on Monday.
The Bangladesh Prime Minister arrived here on Friday on a four-day visit to India. This is her first bilateral visit to India in seven years after her visit in 2010.
Earlier on Saturday, she was accorded a ceremonial welcome at Rashtrapati Bhavan. In the evening, she called on Vice President Hamid Ansari.
(This story has not been edited by NDTV staff and is auto-generated from a syndicated feed.)