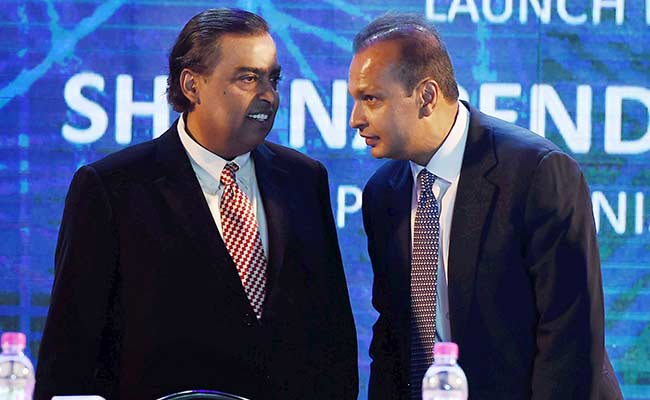 Shares of Anil Ambani-controlled Reliance Communications surged nearly 35 per cent to Rs 41.77 today after the telecom operator signed an agreement to sell its wireless assets to Reliance Jio Infocomm, the telecom arm of elder brother and billionaire Mukesh Ambani's oil conglomerate Reliance Industries. While the two companies did not disclose the deal size, Press Trust of India, citing banking sources, pegged the transaction value at Rs 24,000 crore to Rs 25,000 crore. The mega deal, announced on Thursday, also coincided with the 85th birth anniversary of Reliance founder Dhirubhai Ambani.
10 Things To Know About Reliance Communications-Reliance Jio Deal:
The sale comprises of spectrum, tower, fibre optic and other telecom infrastructure assets of Reliance Communications and is subject to government and other regulatory approvals.
The deal will bring an immediate relief to Reliance Communications (RCom), which is reeling under Rs 45,000 crore debt, and the company hopes to use the entire proceeds to pare its debt.
Reliance Jio emerged the highest bidder for assets and the sale is expected to be closed in a phased manner between January and March 2018, Reliance Communications said in a statement on Thursday.
Reliance Communications said the deal packs in 122.4 MHz of 4G Spectrum in the 800/900/1800/2100 MHz bands, over 43,000 towers, 1,78,000 kilometres of fiber and 248 media convergence nodes.
The sale marks the return of the telecom company back to the fold of Reliance Industries, which forayed into telecoms in 2002, spearheaded by elder brother Mukesh Ambani, under the name of Reliance Infocomm Ltd.
A feud between the two brothers in 2005 led to the split of Reliance Industries when Mukesh Ambani kept the oil and gas business and Anil Ambani walked away with telecoms and power.
However, with Mukesh Ambani's re-entry into the telecom space in September 2016 through Reliance Jio has pushed the telecom sector into a consolidation mode. Jio's free calls and aggressively data plans have hit the financials of other telecom companies who have been forced to lower tariffs.
Reliance Jio is the fastest growing telecom company in India with a subscriber base of close to 15 crore. Through the deal, Reliance gets access to four bands of spectrum and 43,000 telecom towers and a countrywide fibre optic network.
"These assets are strategic in nature and are expected to contribute significantly to the large scale roll-out of wireless and Fiber to Home and Enterprise services by RJIL (Reliance Jio)," Reliance Jio said in a statement.
Earlier this week, RCom announced its exit from the strategic debt restructuring (SDR) and outlined an ambitious revival plan that involved zero write-offs to lenders. Reliance Communications shares have surged nearly 250 per cent in eight sessions. (With Agency Inputs)
For the latest News & Live Updates on Election Results from each assembly constituency in Madhya Pradesh, Rajasthan, Mizoram, Chhattisgarh, Telangana, like us on Facebook or follow us on Twitter for updates.