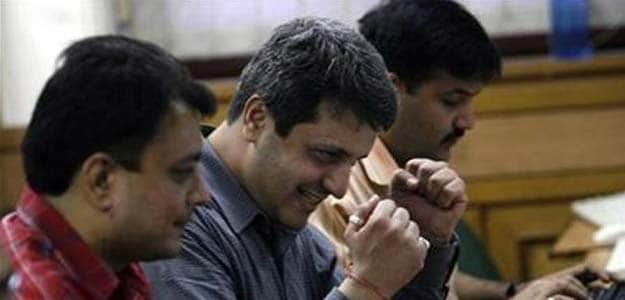 3.40 p.m. Markets gain for fifth straight day. Sensex closes 15 points up after hitting a record high of 22,024 in intraday trade. Bank Nifty closes above 12,000. (Track markets)
3.30 p.m. Markets close up for 5th straight day (provisional). Sensex, Nifty advance 11 points each.
3.00 p.m. Market alert: Sensex up over 1,000 points in last five sessions. Rupee pulls back below 61 per dollar.
2.40 p.m. Sensex jumps over 100 points, hits new record above 22,000. Nifty up 34 points, rupee bounces back in green.
2.30 p.m. IT stocks have come under huge selling pressure tracking the strenght in the rupee. The BSE IT index is trading down 2.5 per cent as against 0.2 per cent gain in the broader Sensex. TCS, HCL Tech and Infosys shares down 3.5 per cent, 3.2 per cent and 2.3 per cent respectively. (Track IT stocks)
2.15 p.m. Hindaclo, Tata Steel shares are under pressure today. China's exports unexpectedly tumbled in February, raising fears of a slowdown in the world's second-largest economy. (Read the full story here)
2.05 p.m. Sensex up 17 points, Nifty up 8 points. IDFC, IndusInd, Kotak Mahindra are top three Nifty gainers. TCS, Tata Motors and HCL Tech are top three losers.
1.45 p.m. In political news, the Aam Admi Party has named former Infosys chief financial officer and director V Balakrishnan as its candidate from the Bangalore Central constituency for the forthcoming Lok Sabha polls. (Read the full story here)
1.30 p.m. Sensex bounces back into green, up 15 points at 21,935; Nifty up 5 points at 6,532. (Track markets)
1.05 p.m. Sensex, Nifty close to bouncing back into the green. Sensex down 12 points, Nifty trading flat at 6,524. Rupee off day's low at 61.22 per dollar. Meanwhile, GlaxoSmithKline says it had paid Rs 6,400 crore to increase its stake in its Indian pharmaceuticals unit to 75 per cent. The drugmaker held an open offer to buy the extra shares at Rs 3,100 each from February 18 to March 5. Final payment for shares tendered and accepted will be completed by March 20, GSK added. Shares down 3.6 per cent to Rs 2,555. (Track stock)
12.42 p.m. Sensex down 25 points, Nifty down 4.5 points.

Here are the top brokerage calls for the day,

1) Goldman Sachs maintains buy on IndusInd Bank. Says commercial vehicle concerns are likely over-stated. Read
2) Credit Suisse maintains buy on HCL Tech citing comfortable valuation. Read
3) CLSA maintains buy on Reliance Industries. Says RIL likely to post record profit in the March quarter. Read

12.22 p.m. Sensex down 37 points, Nifty down 9 points. Traders told Reuters that foreign institutional investors are building up long positions in futures across indexes, especially in banks. The Nifty accounts for about 89 per cent of the total outstanding positions, while 10 per cent is held by Bank index futures, exchange data shows.

11.39 a.m. Morgan Stanley turns "overweight" across all private sector lenders in India, after previously having that stance for only HDFC Bank, Housing Development Finance Corp, ICICI Bank, and Axis Bank. The investment bank, in a report dated March 10, says it expects a re-rating across the sector as the bad-loan cycle could be "close to the end" if the economy remains stable.(Read full story)
11.30 a.m. Markets turn flat. Sensex down 3 points at 21,916; Nifty up at 6,527. Jaiprakash Associates, IndusInd Bank, IDFC, DLF and SBI are the top five gainers. HCL Tech is top loser. Tata Motors, Ranbaxy Lab, TCS and Hindalco also down sharply. (Track top gainers and losers)
11.00 a.m.Sarvendra Srivastava says Nifty holding steady above 6,500, which means that the bullish setups are intact. Trading tips at this hour,

1) Tata Elxsi: Buy with a target of 620 and a stop loss of 579.4.
2) Bharti Airtel: Buy with a target of 318 and a stop loss of 299.4.
3) DLF: Buy with a target of 178 and a stop loss of 166.4.

10.45 a.m. Prashastha Seth of IIFL says rally depends on how strongly markets believe that Modi will win in elections. In medium term, the economy is showing signs of stabilization and earnings cycle may recover in the next one-two quarters. Global mood is not that great with selling in emerging markets and Europe, but India seems to be sailing against the wind. Some consolidation is likely, but if domestic sentiment continues to be strong, India can see sharp up moves as well.
10.30 a.m.Reliance Industries rises after its partner in the KG basin - British Petroleum - said the company's recent discoveries in blocks KGD6 and CYD5 are potentially commercial. Reliance owns 60 per cent and 70 per cent in the two blocks respectively. (Read full story here)


9.46 a.m.
Shares in
Ranbaxy Laboratories
Ltd fell as much as 3.8 per cent on Monday after the drug maker recalled more than 64,000 bottles of the generic version of a cholesterol-lowering drug in the United States after doseage mix-up was detected. (
Read full story
)
09.18 a.m. Sensex, Nifty bounce back into the green territory after weak start. Sensex hits record high for third successive session as it crosses 22,000 for the first time. Bank Nifty jumps nearly 1.5 per cent. (Track markets)


09.10 a.m.
Market analyst Sanjeev Bhasin says high beta could see profit booking, while midcap stocks could outperform today. Sell infra, banks & auto & buy financial services, auto OEM (original equipment manufacturer), telecom & metals, he added. (
For Sanjeev's traing calls click here
)
09.00 a.m. Rupee opens lower at 61.25 to a dollar against previous close of 61.08.
08.30 a.m. Market analyst Sarvendra Srivastava maintained its bullish stance and said the Nifty is heading for revised targets of 6,700-6,800. However, he advised traders to book some profits today.

Here are Mr Srivastava's trading picks for the day,
Federal Bank: Buy with a target of 94 and a stop loss of 79.8.
ITC: Buy with a target of 365 and a stop loss of 329.4.
FDC: Buy with a target of 140 and a stop loss of 118.4.
08.20 a.m. Markets likely to open lower on Monday tracking global cues. Nifty futures on the Singapore Exchange traded 33.50 points or 0.5 per cent lower at 6,521.50.
08.10 a.m. Japan's Nikkei slipped 1 per cent, while South Korea's Kospi benchmark fell 0.8 per cent. The Hang Seng benchmark in Hong Kong traded 1.4 per cent lower. (Read the full story)
08.00 a.m. On Friday, the Nifty rose as much as 2.1 per cent to a record high, and the Sensex hit its record for a second consecutive session amid strong buying by foreign investors. Japan said its economy grew 0.2 per cent in the quarter to December and 1.5 per cent in 2013, slightly lower from earlier data.
Overseas investors posted their biggest daily purchases since December 9 on Friday, buying Rs 2,577 crore worth of shares in the cash market. That marked a 16th consecutive buying session for a net total of about $1.4 billion. For the year, foreign investors have bought a net $850 million in shares, after buying $20 billion worth last year.
Overseas funds have also turned into strong buyers of debt, with net purchases of $4.9 billion so far this year, helping partly reverse their net sales of $8 billion in debt in 2013.
Expectations that the opposition BJP, led by its prime ministerial candidate Narendra Modi, would win those elections are helping spark some of the gains, amid widespread perceptions it has a more business-friendly stance than the ruling Congress-led coalition.
But analysts say the rally could also signal a longer-term bet on a rebound in India's economy, given signs that foreign investors are switching from exporters, which had attracted the bulk of overseas buying last year, to domestic-focused sectors. (Read the full story here)
The Nifty ended up 2 per cent, or 125.50 points, posting its biggest daily percentage gain since November 25. The 50-member index rose nearly 4 per cent for the week. The Sensex rose 1.9 per cent, or 405.92 points, after earlier setting a record high at 21,960.89 points. It rose 3.8 per cent for the week.
The rupee rose to a near three-month high and closed at 61.08/09 per dollar compared with 61.11/12 on Thursday. The unit rose as high as 60.945, its strongest since December 9. For the week, it rose 1.1 per cent, its best performance since the week ended December 6.