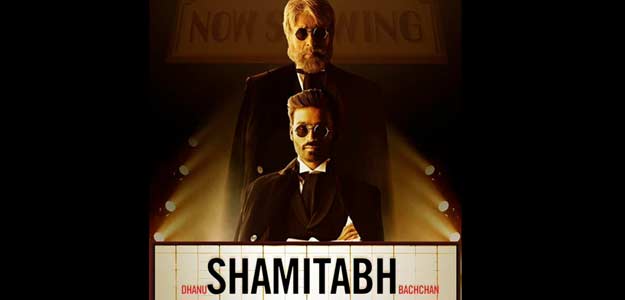 Amitabh Bachchan and Dhanush-starrer Shamitabh is a collaboration of several investment biggies and advertisement professionals. The film's fortunes on the box office will also impact the performance of at least one listed company - Eros International Media. Shamitabh is set for worldwide release on February 6.
The biggest name associated with Shamitabh (after its popular star cast) is Rakesh Jhunjhunwala. The 54-year old billionaire, a co-producer of the film, has made his fortunes in the stock markets. Most of his bets are long-term and often prove to be multi-baggers. On Friday, however, the fate of his investment in Shamitabh will be in the hands of India's movie-going public.
Shamitabh has reportedly been made at a cost of Rs 40 crore; Mr Jhunjhunwala's net worth, according to Forbes, is $1.9 billion (Rs 11,400 crore).
Another stock market veteran associated with the making of Shamitabh is Radhakrishnan Damani. Like Mr Jhunjhunwala, Mr Damani made his riches in the stock market. Mr Jhunjhunwala considers him his guru. Mr Damani has a net worth of $1 billion (Rs 6,000 crore).
Shamitabh will only be the second time when Mr Jhunjhunwala and Mr Damani have collaborated for a Bollywood production. Their first film - English Vinglish - released in 2011 was a commercial success. The film was directed by ad maker Gauri Shinde, who is also a co-producer of Shamitabh.
Ms Shinde is married to R Balakrishnan, the chairman of ad agency Lowe Lintas. Mr Balakrishnan, popularly called Balki, is is among the co-producers of Shamitabh. He has also directed the film. His previous directional ventures include - Cheeni Kum and Paa - both starring Amitabh Bachchan.
Eros Media, also a co-producer, will be distributing the film. Eros shares have underperformed the broader Sensex over the last one month. The stock has fallen over 4 per cent in January as compared to a 4 per cent gain in the Sensex.
Sunil Lulla, managing director, Eros International Media had told NDTV, "Shamitabh is an exciting collaboration with Balki whose films feature contemporary themes with strong content and fabulous casting. With this film, we wish to present a heartwarming story that will entertain fans and audiences with an unforgettable experience,"
Amitabh Bachchan and his son Abhishek Bachchan are the other co-producers of the film.