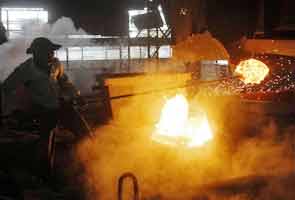 A possible merger of Sesa Sterlite with cash-rich Cairn India and Hindustan Zinc could be the next trigger for the stock, said Hemang Jani, senior vice president at Sharekhan.
"The merger could be short term trigger for Sesa Sterlite and it could give about 10-15 per cent uptake in the stock," he added. (Watch video)
In an interview given to Press Trust of India, Anil Agarwal, promoter of London based Vedanta Group, which owns 62.5 per cent stake in Sesa Sterlite, said consultants have been appointed to explore if it would make sense to merge the two firms into Sesa Sterlite. Sesa Sterlite owns 59.9 per cent stake in Cairn India and 65 per cent stake in Hindustan Zinc.
As of September 30, 2014, Sesa Sterlite had a consolidated net debt of Rs 73,995 crore excluding the cash available with Cairn India and Hindustan Zinc. Hindustan Zinc had net cash of Rs 24,412 crore and Cairn India had a net cash balance of Rs 16,164 crore as of September 30, 2014.
Post merger of the three units- Cairn India, Sesa Sterlite and Hindustan Zinc- Sesa Sterlite will have the flexibility to use the cash lying with Cairn India and Hindustan Zinc.
Given the fact that Sesa Sterlite's entire mining operations are going to start over next couple of quarters, it is absolutely important for the company to get the flexibility of using the cash lying in the books of Hindustan Zinc and Cairn India for growth going forward, said Mr Jani.
"This was the main thing that the market was hoping for," he added.
As of now, analysts are assigning discounted valuations to the separate units Cairn India, Sesa Sterlite and Hindustan Zinc. A single unit would allow financial flexibility to Sesa Sterlite, which would increase the valuation of the combined unit, analysts added.
Shares in Sesa Sterlite closed 1.24 per cent lower at Rs 203.70 apiece on Tuesday. Its shares have underperformed the broader Nifty over last one year as they have gained only 4.4 per cent against 32 per cent increase in the broader Nifty over the same period.