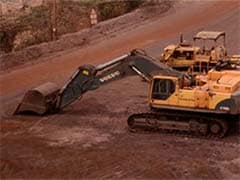 New Delhi:
Sesa Sterlite Ltd expects its iron ore output to surge six fold this fiscal year as it resumes production in Goa in September after a 19-month mining ban in the state, an executive of the country's top private iron ore miner said.
A pick up in production as mines in India's biggest iron ore-exporting state restart could hurt global prices of the steelmaking raw material that have already lost almost 30 per cent this year in an amply supplied world market.
Sesa Sterlite's total iron ore output from India, where it operates in Goa and neighbouring Karnataka, is expected to reach 9.29 million tonnes in the year to March 2015 from about 1.5 million a year ago, Aniruddha Joshi, a vice president at the firm, told Reuters in an interview on Thursday.
Most of the output will be exported as Indian steelmakers are not keen on buying the low-grade ore from Goa at global benchmark prices, Joshi said. The country is currently the world's tenth largest exporter of iron ore.
"It'll suffice to say that only China can use Goan ore," Joshi said. "Because its hematite coarse fines which can be mixed with very fine concentrates that are only produced in China in high quantities."
The Supreme Court in April lifted the ban in Goa that was aimed at curbing illegal mining, but ordered firms to renew mining leases and environmental clearances before restarting work. It also capped Goa's annual output at 20 million tonnes.
Tom Albanese, chief executive of Vedanta Resources Plc that controls Sesa Sterlite, had earlier said its unit's operations in Goa would restart around October.Shares of Sesa Sterlite have surged more than 50 per cent since the ban on mining in Goa was lifted.
China Driven
Goa rose to become India's biggest iron ore exporter over the past decade after China's insatiable steel mills started consuming even inferior grades, prompting many fly-by-night operators in the state to flourish with scant regard for rules.
But Joshi said Sesa Sterlite had never done anything wrong.
"I've not done anything wrong, no authority has found fault with any of my operations, and I have done all my applications properly," he said.
Sesa Sterlite had a capacity to produce about 14.5 million tonnes in Goa, or one third of the state's average output per year, before the ban. But now with the court-imposed limit, the firm's output is likely to be capped at 7 million, Joshi said.
In Karnataka, where there was a similar mining ban until last year, Sesa Sterlite's production is limited to 2.29 million tonnes per year, less than half of its original capacity.
Despite the restrictions and an export duty of 30 percent that pushed India down from being the world's third biggest exporter of iron ore, Joshi believes the country will still be able to find buyers in China without having to cut prices.
But the slide in global prices of the raw material has toughened competition among suppliers to China, prompting even top miners such as Brazil's Vale and Rio Tinto to offer discounts.
Joshi accepts that there are challenges.
"The problem is that if the government and courts in India decide to open the mines and close them at their will, finding a reliable customer and making them believe us will be tougher than finding a market."
Copyright: Thomson Reuters 2014