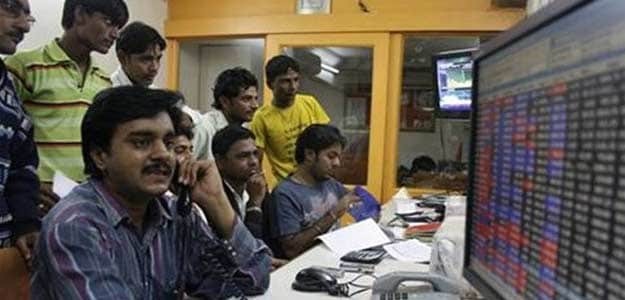 3.34 p.m. Sensex closes at 25,372.75, down 72.06 points and Nifty ends trade at 7,567.75, falls 17.25 points. Among sectoral indices Midcap index up 0.35 per cent, Realty index up 4.67 per cent, Bank Nifty down 1.25 per cent, IT index down 0.96 per cent, Infrastructure index up 0.15 per cent, Metals index up 0.58 per cent.
18 out of the 50 companies in Nifty close higher. DLF remains the top gainer in Nifty with 9.31 per cent gain followed by IDFC. Hero MotoCorp top loser in Nifty, ends 3.46 per cent lower.
3.20 p.m. Cyclical stocks witness profit booking, Bank Nifty down 0.96 per cent. Auto index down 0.90 per cent. Realty stocks pair some of the gains, now up 4.33 per cent.
3.10 p.m. Sensex turns negative, down 81 points at 25,363. Nifty down 17.3 points at 7,568.
3.00 p.m. Power companies surge as FM proposes 10- year tax holiday for power generation companies. Tata Power Company up 3.6 per cent, Adani Power up 3.99 per cent, JSW Energy up 4.39 per cent.
2.48 p.m. Market update: Sensex pares some gains now up 245.6 points at 25,690.43 and Nifty up 81.1 points at 7,666.10.
2.45 p.m. Gail up 1.71 per cent as FM proposes 15,000km more gas pipelines in India.
2.31 p.m. FM proposes 6 more textile clusters and sets aside Rs 200 crore. This is positive for textile companies like Century Textiles & Industries (up 2.75%), Raymond (up 4%), Grasim Industries (up 2.09%).
2.26 p.m. V S Parthasarthy chief finance officer of Mahindra & Mahindra Ltd. says "This is a systemic growth oriented budget"."Fiscal discipline that is put in the budget is positive," he added.
2.20 p.m. Market update: Sensex surges 415.33 points to 25,860 and Nifty trades 129 points higher at 7,714.10
2.15 p.m. IRB infrastructure surges 9 per cent to Rs 258 as government proposes to invest Rs 37,800 crore in national highways.
2.10 p.m. Satya Poddar, partner (Tax & Regulatory Services), EY says "the best news about the budget is there is no bad news".
2.03 p.m. Gujarat Pipavav up 4.33 per cent as government to announce comprehensive shipbuilding policy & proposed 16 more ports, this is positive for Gujarat Pipavav Port.
1.55 p.m. IDFC up 11.33 per cent, as banks are encouraged to give long term loans for Infrastructure companies.
1.52 p.m. Bata India up 4.86 per cent, government cuts duty on footwear from 12% to 6%. This will increase the profitability of footwear manufacturers.
1.45 p.m. Duty on Food Processing cut from 10% to 6% , this is Positive for consumer staples like Hindustan Unilever. Hindustan Unilever is up 0.52 per cent.
1.42 p.m. DLF up nearly 10 per cent at Rs 224. Analysts say announcement on REIT is positive for DLF as it will help the company to monetise their commercial real estate assets.
1.37 p.m. Broad based buying seen in the market across the sectors. Sensex up 418 points at 25,862.61 and Nifty up 124.40 points at 7,709.40.
1.31 p.m. Kirit S Parikh, chairman of Integrated Research & Action for Development says there are lot of positive things announced in the budget. Special funds for banks to finance long term infrastructure projects are really positive, he added.
1.25 a.m. Cyclicals recover, realty index up 4.53 per cent, bank index up 1.37 per cent and the infrastructure index up 1.41 per cent.
1.19 p.m. Markets recover drastically. Sensex up 329 points at 25,773.5 and Nifty up 96 points at 7,681. Sensex up over 650 points from its day low.
1.16 p.m. Sensex recovers completely, now trades 158 points higher at 25,603.61 and Nifty up 45 points at 7,630. (Track market)
1.01 p.m. Realty index up 1.05 per cent. The increase in income tax exemption on housing loan interest will give a boost to the realty sector.
12.50 p.m. Sensex recovers, now down only 72 points to trade at 25,372.13 and Nifty trades lower by 23.55 points at 7,561.45.
12.40 p.m. Now the big thing, tax proposals: Direct Taxes- No change in tax rates. FM increased the taxable income limit to 2.5 lakh from 2 lakh.
80 C limits increased to 1.5 lakh from Rs 1 lakh.Interest exemption on housing loan increased from Rs1.5 lakh to Rs 2 lakh.
This is very much positive for the real estate sector as well as for the banking sector. This will give the much needed impetus to the realestate sector and also increase the credit offtake of banks.
This is also positive for the insurance and mutual fund sector as individuals can invest more under 80C. This will boost the asset under managemant of AMCs and insurance companies.
12.28 p.m. Public Provident Fund annual limit increased from Rs 1 lakh to Rs 1.5 lakh. This is positive for the economy as it will enhance the domestic savings of the country. (Read)
12.18 a.m. FM says bank will be provided funds for financing long-term infrastructure projects .It is positive for the banking sector and infrastructure sector. Bank Nifty recovers, now down 1.17 per cent compared to day low of around 2 per cent.
12.12 p.m. Sensex recovers over 100 points from day lows now down 169 points at 25,275.74 and Nifty down 55 points at 7,530.40.
12.10 p.m. Government announces plans for setting up airports in cities where currently there is no airport currently. This is positive for stocks like GMR Infrastructure and GVK Power and Infrastructure.
12.05 p.m. Markets witness broad based selling. Except IT all other sectoral indices are in red.
12.00 p.m. Government to conduct open market sale of food grains, this will help reduce food inflation specifically of food grains.
11.55 a.m. Government focuses on low cost housing, Dewan Housing Finance up 2 per cent.
11.35 a.m. Sensex now down over 250 points, Nifty falls over 90 points.
Why markets are down. The Finance Minister has said the Central Board of Direct Taxes (CBDT) will scrutinize all cases under 2012 law on retrospective tax cases. However, he has not scrapped the controversial low, which has been a big overhang on markets. Analysts say foreign investors' expectations on reversal of retrospective taxation (2012) has not been met.
11.15 a.m. Sensex is now down nearly 200 points, even though the Finance Minister has met market expectations on most counts so far. Mr Jaitley has retained fiscal deficit target at 4.1 per cent of GDP and announced a hike in FDI limit for insurance and defence sectors. He has promised more clarity on goods and services tax (GDT) by year-end. The GST is expected to boost the country's GDP growth and bring down overall taxes.
11.30 a.m. Sensex falls 170 points to 25,174.81 and Nifty falls 59 points to 7,526.
11.21 a.m. FM announces 49 per cent FDI in insurance sector. This is positive for stocks like Reliance Capital and Max India as this will help them to raise the much needed capital which is required for the growth of the sector. Reliance Capital is up 1.15 per cent and Max India is up 2 per cent.
11.16 a.m. PSU banks index is up 0.45 per cent as FM announces stake sale in a phased manner to help raise capital for these while maintaining minimum 51 per cent shareholding in these banks.
11.05 a.m. Markets have turned extremely choppy. Sensex gives up gains, drops lower and then picks up some steam. Sensex now up 45 points.
11.00 a.m. Markets are up around 0.50 per cent as Finance Ministry Arun Jaitley beings Budget speech in Parliament.
10.55 a.m. Markets at day's high just ahead of budget announcement; Sensex gains over 100 points, Nifty above 7,600. Metal, power, realty, PSU stocks rise over 1 per cent. (Track market)
10.45 a.m. (Read: Stocks to track when Arun Jaitley reads his budget speech).
10.32 a.m. Titan Company is down 0.34 per cent, TBZ is down 0.65 per cent, PC Jewellers up 2.31 per cent. It is expected that government will give guidance on reducing the import duty on gold. If import duty is reduced it will reduce the retail selling price of gold and result in higher sales for jewellery retailers.
10.25 a.m. Reliance Capital is down 1.05 per cent at Rs 585 whereas Max India is trading flat at Rs 294.90. There is huge expectation that government will raise the foreign direct investment limit in the insurance sector from 26 per cent currently to 49 per cent. This will help insurance companies to raise the much needed capital from their foreign partner. Stocks like RelCap and Max India will be benefited if government announces this.
10.12 a.m. The PSU Banks index is marginally trading higher by 0.06 per cent. NSE's PSU bank's index have rallied nearly 25 per cent in last three months compared to 11.45 per cent gain in Nifty in the same period. There is huge expectation that government will announce its plan to recapitalise PSU Banks in the Budget. It has been estimated that PSU banks need nearly $40billion in next 5 years to support the credit growth that is required for the economy.
10.05 a.m. Market update: Markets are subdued ahead of Budget announcement. Sensex trades just 2.83 points higher at 25,447.64 and Nifty trades 9 point lower at 7,576.
9.58 a.m. Top ten expectations from Budget (Read)
9.54 a.m. U R Bhat, managing director at Dalton Capital says the quality of fiscal deficit will matter a lot. If the fiscal deficit is for investment then market will take it positively. Government has to do investment in infrastructure like power, road and airports, he added.
9.50 a.m. Market breadth is negative. 31out of the 50 Nifty stocks are trading in red.
9.40 a.m.How markets have reacted on Budget day:
11 out of 21 times, the Sensex has yielded positive returns on Budget day
Average positive return is 1.61%
Average negative return is 2.52%
1-Month Post Budget:
12 out of 21 times, Sensex has traded lower one-month after Budget
Average negative return is 5.66%
Average positive return is 7.64%
9.35 a.m. Dr.Tirthankar Patnaik, director & strategist (Institutional Research) at Religare Capital Markets Limited says market will react very positively if government announces an early roll out of GST. If there is an implementation date then market will take it positively, he added.
9.30 a.m. Manish Sonthalia, senior vice president & head of equity portfolio management services at Motilal Oswal AMC says banks will go up if government announces specific plans to recapitalise the banks in Budget.
9.25 a.m. Focus on PSU stocks, Coal India shares up 1.5%. Markets expect higher divestment target in Budget. In February interim budget, P. Chidambaram had estimated Rs 57,000 crore from sale of government stake in companies.
9.20 a.m. Nifty losers: Tech Mahindra down 1.66 per cent, Lupin down 1.48 per cent whereas IndusInd Bank trades 1.14 per cent lower. (Track losers)
9.18 a.m. Nifty Gainers: Bharti Airtel up 1.05 per cent at Rs 345.10, Tata Motors up 1.04 per cent at Rs 462 Hindalco trades higher by 0.70 per cent. (Track gainers)
09.15 a.m. The Sensex and Nifty opened higher ahead of Budget announcement at 11 a.m. today. The Sensex advanced 60 points and traded above the key 25,500 mark, while the Nifty rose 0.1 per cent to trade near 7,600 levels in early trade. (Track market)
Market analyst Sarvendra Srivastava says investors should wait and watch before taking positions. Mr Srivastava, who has a negative outlook on markets, advised investors to hold 7,500 puts. Sanjeev Bhasin, an independent analyst, says sharp corrections over the last two days are linked to Budget-related volatility. Today we could actually see lesser-than-normal volatility as most participants are discounting the Budget with clear outlook on timelines rather than dramatic changes, he added.
Markets are likely to be choppy ahead of the Budget speech, which will start at 11 a.m. There are huge expectations of bold policies from Finance Minister Arun Jaitley's first Budget.
Both the Sensex and Nifty have hit successive record highs ahead of the Budget, so there's no room for disappointment. From May 16, when Prime Minister Narendra Modi won a historic mandate, the Nifty has gained 5.3 per cent. For the year, the 50-share benchmark is up 20 per cent outperforming most markets across the globe.
Cyclicals such as banking and infrastructure shares have seen huge rally in past few months on the back of reform expectations in the Budget. The rally has also been fuelled by foreign investors, who have pumped in nearly $11 billion (Rs 65,000 crore) so far this year.
Global cues: Asian markets rose on Thursday, after the US Federal Reserve indicated that it was not in a rush to end quantitative easing and begin hiking rates. MSCI's broadest index of Asia-Pacific shares outside Japan gained 0.2 per cent. Tokyo's Nikkei rose 0.1 per cent.
US stocks also rose on Wednesday. The Dow Jones industrial average rose 78.99 points or 0.47 per cent, to end at 16,985.61. The S&P 500 gained 9.12 points or 0.46 per cent.
(With inputs from Reuters)