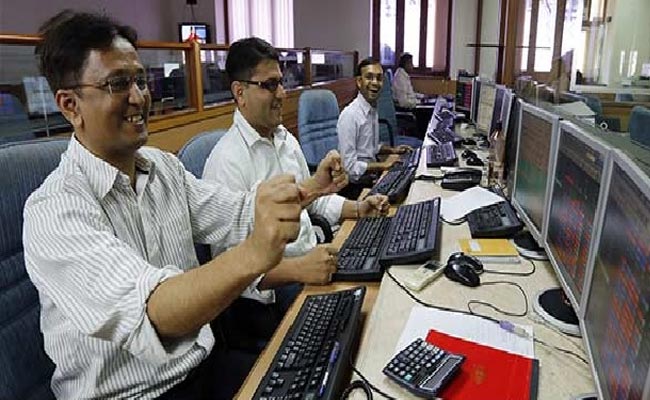 The stock markets surged to record highs today with the Nifty crossing the 11,150 mark and the Sensex rising over 300 points. The Finance Minister today Arun Jaitley tabled the Economic Survey 2017-18 in Parliament. The Economic Survey is a report card of the country's financial health. Sentiment was buoyed by higher global markets, and optimism about domestic economic growth and corporate earnings. At day's high, the Sensex rose to 36,410 while the Nifty hit 11,163.75. The rupee was higher at 63.51 as compared to its previous close of 63.55.
Optimistic buying activity on the day of Economic Survey in run up to the Union budget on February 1 buoyed the trading sentiment. The budget -- last full-fledged one before the 2019 general elections --will be presented on February 1.

"The budget remains critical, being the first one after GST (Goods and Services Tax) implementation and the last full year budget before the general elections in 2019," said Devendra Nevgi, founder and principal partner, Delta Global Partners.

On the other hand, corporate India earnings, performance of global markets and global oil prices are the key things to watch, say analysts.

IT, metal and auto stock led the gains today. Maruti Suzuki India and TCS shares surged between 2 to 4%.

Among the metal stocks, Vedanta and Hindalco rose over 2 per cent.

Despite strong gains in the frontline indices like Nifty and Sensex, market breath was not that strong. The BSE midcap and smallcap indices were slightly in the green.

Foreign funds bought sharers worth Rs 937.31 crore on Thursday, as per provisional data. Markets were closed on Friday.

Newgen Software shares debuted on the bourses today, rising 5 per cent.

Asian shares extended their bull run on Monday amid upbeat corporate earnings and strong global economic growth.

Wall Street has likewise been on a tear. Just last week, the Dow rose 2.08 per cent, the S&P 500 2.22 per cent and the Nasdaq 2.31 per cent.