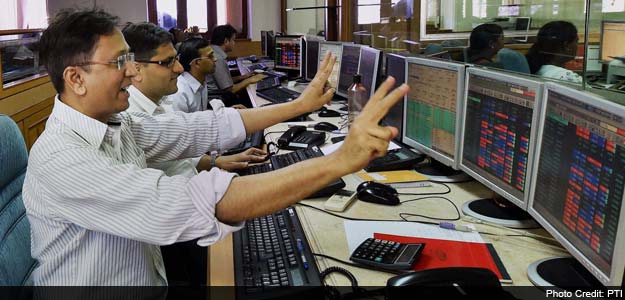 Indian stock markets rebounded sharply on Friday, with the BSE Sensex gaining 506 points, its best one-day gain in four months. The broader Nifty jumped 134 points and the rupee also rebounded from 20-month lows. The Sensex closed at 27,105, while the Nifty ended at 8,191.50. The rebound in stock markets comes after three days of selloff in which the Sensex has shed nearly 900 points.
Here are the latest developments:

1) The rebound is being attributed to short covering, a strategy where traders buy stocks to cover open short position. Short covering happens after every major selloff.

2) Other factors that are helping sentiments include Finance Minister Arun Jaitley's announcement to form a panel that will suggest ways to resolve the Minimum Alternate Tax dispute. (Read)

3) Gains across global markets and a 3 per cent drop in crude oil prices led to a positive impact on domestic markets, traders said.

4) The rupee rebounded from 20-month lows, pulling back below the key 64 per dollar mark. It ended at 63.94, up 46 paise from Thursday's close of 64.23 per dollar.

5) So, is the selling finally over? That will depend on fund flows, traders said. Foreign investors have been selling domestic equities aggressively, primarily because of concerns about tax demands on capital gains made during previous years. If selling by foreign funds subsides, markets are likely to stabilize in the near term, analysts say.

6) On Thursday, FIIs sold cash shares worth Rs 1,361 crore. Over the last 15 sessions, they have sold shares worth over $2 billion or nearly Rs 14,000 crore.

7) Corporate earnings will also play a major role in market recovery. Analysts say until corporate profitability improves, a sharp rise in equities is unlikely. On Thursday, two-wheeler major Hero MotoCorp and jewellery maker Titan posted disappointing results for the March quarter. On Friday, state-run Punjab National Bank disappointed the Street, reporting a sharp rise in bad loans.

8) The sharp selloff in stock markets has damaged confidence of retail investors, analysts say. Market expert Ambaressh Baliga told NDTV that earlier dips were bought in to, but now a lot of investors are waiting on the sidelines despite a sharp correction. He expects the Nifty to consolidate around 8,000.

9) Technical analysts such as Ruchit Jain of Angel Broking told NDTV that a rebound to 8,300-8,320 is likely, but markets are likely to correct after the pullback.

10) Investors will also be eyeing the reform process, which seems to have hit a dead end. The GST Bill will likely be taken up in the Rajya Sabha on Monday, where the government is in a minority.