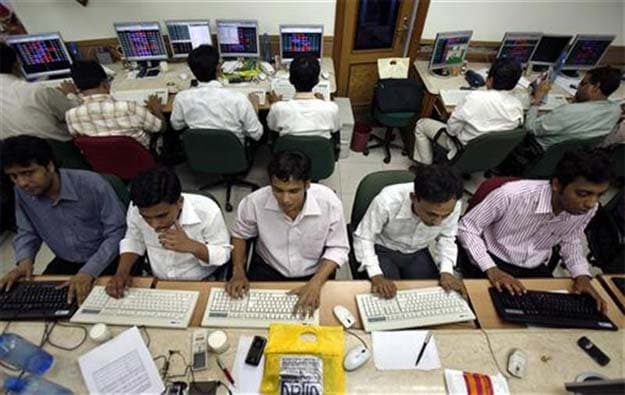 The Indian rupee and stock markets jumped sharply on Thursday tracking the global rally in risk assets after the US Federal Reserve said it would continue buying bonds at an $85 billion monthly pace in a surprise move. Most analysts expected the US central bank to taper its stimulus by $10-15 billion per month.

The rupee traded at 61.77 as of 12.30 p.m. after earlier pulling back to a high of 61.66. The partially convertible rupee had closed at 63.38 per dollar on Wednesday. The BSE Sensex, which jumped over 600 points earlier, traded 585 points higher at 20,548. The broader Nifty traded 189 points higher at 6,088.

Banking stocks led the rally in domestic markets. Private lenders Axis Bank, IndusInd Bank and ICICI Bank were the top three gainers on the Nifty. (Read: Banks soar, IT stocks flat on Fed's move)

Technical analysts said there's no stopping to this rally after the Fed has decided against tapering. Sarvendra Srivastava said the next logical levels beyond today's move will be the all-time high at 6,357.

Rakesh Arora of Macquarie told NDTV that today's move will be exaggerated, but this rally may continue for 3-4 months. Markets have moved from "sell on rally" to "buy on dips", he added.

Asian shares and currencies rallied after the Fed's decision. Australian stocks hit a five year high and Japan's Nikkei benchmark rose to a two-month high. Overnight, the Dow Jones stock average and the broader S&P 500 closed at a record high.


What Fed's decision means for investors:

Fed's decision means the policy of super easy money will continue for a few more months. For emerging economies like India, this is good news. Indian economy is heavily dependent on foreign funds to finance its record current account deficit, which hit a record 4.8 per cent of GDP in the last fiscal. (Read: What did the Fed say)

Between June and August this year, India saw the sharpest foreign fund outflow since the global financial crisis in 2008. Investors feared that this exodus would worsen and the rupee would depreciate further. But that is unlikely now.


What Fed's decision means for Indian economy:


The Fed's decision also gives Reserve Bank's new governor Raghuram Rajan much needed leeway to formulate his maiden monetary policy on Friday. A tapering by the US Fed would have forced Dr Rajan's hands to hike key interest rates to defend the rupee by making India attractive for foreigners.
The Fed's outcome means the pressure on RBI to keep liquidity tight is now less though interest rates can't be cut in a hurry, Mr Arora said.
"India is not fully out of woods. Inflation is still high, but small steps towards easing liquidity can be announced on the 20th," Mr Arora said.
Dr Rajan is expected to leave key policy rates unchanged and continue with the cash tightening measures to stabilise the rupee, and focus on checking runaway inflation, a Reuters poll showed.
Why the Fed did not taper as expected:
Fed's move comes against the backdrop of a somewhat gloomier outlook for economic growth from US Fed officials. In a new set of quarterly forecasts, the Fed now sees growth in a 2 per cent to 2.3 per cent range this year, down from 2.3 per cent to 2.6 per cent in its June estimates.
The downgrade for next year was even sharper: 2.9-3.1 per cent from 3.0-3.5 per cent.
(With inputs from Reuters)