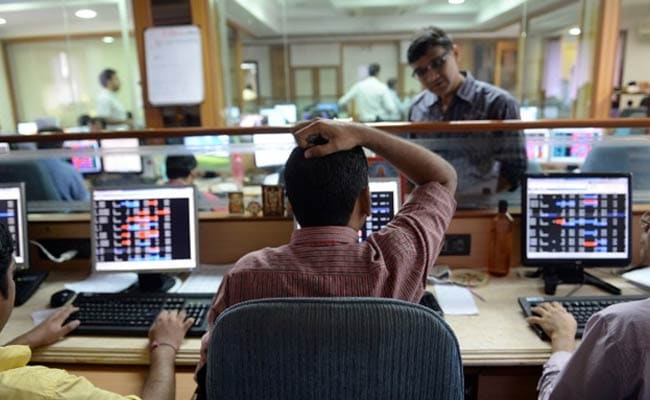 Finance Minister Arun Jaitley has sought to calm investors after the Sensex fell as much as 582 points on Monday, amid jitters over a recommendation for stiff norms for participatory notes or P-Notes and a steep 8 per cent plunge in China markets.
The Sensex ended 550 points lower at 27,561 while the Nifty fell 160 points to 8,361, also reflecting the tumble in China, where shares fell more than 8 per cent on Monday - their biggest one-day drop in eight years - amid renewed fears on the outlook for the world's No. 2 economy.
This shattered a period of relative calm in China's volatile stock markets since Beijing unleashed a barrage of support measures to arrest a slump that began in mid-June. The tremors were felt across the globe. European stocks and major commodity prices also fell hard.
(
Read
:
China stocks suffer biggest 1-day loss in 8 Years
)
Mr Jaitley promised that "the government will not take any steps that will adversely impact the country's investment climate."
He ruled out a "knee-jerk reaction" to a special investigation team's (SIT) recommendation last week for tighter regulations on P-Notes to curb the flow of black money. P-Notes are instruments through which foreign individuals, hedge funds and others invest in India's stock markets without being registered with market regulator Securities and Exchange Board of India (Sebi)
(
Read
:
Jaitley rules out 'knee-jerk' reaction on P-note
)
On the jitters over P-notes, Revenue Secretary Shaktikanta Das told NDTV, "There is no reason for the market to panic." He said the government would consult Sebi, the Reserve Bank of India and other stakeholders before deciding on the issue.
P-Notes are popular with foreign investors because they are able to save time and the costs associated with direct registration with Indian authorities.
Investments through participatory notes in India's capital market were at a whopping Rs 2.75 lakh crore (about $43 billion) at the end of June. This was 11.5 per cent of the total foreign institutional investment (FII) in Indian markets.
But investment through P-Notes has been steadily decreasing over the years. Till a few years ago, P-Notes used to account for more than 50 per cent of total FII investment, but their share has fallen as Sebi has tightened disclosure norms and other related regulations.
In 2007, a crackdown on P-Notes had led to a 10 per cent plunge in the Sensex within minutes of the market opening. Trading had to be halted and then finance minister P Chidambaram had to make statements to calm the markets.
Prabhat Awasthi, managing director and head of equity at Nomura India, said he expects the P-Note issue to be a "passing phase" for the Indian markets. "Typically these issues have tended to get resolved because the government tends to be sensible about not disrupting the market," he said.
"Besides, many global banks have tightened their KYC norms. So the bulk of P-notes, specially coming through issuance done through global investors, will all be genuine guys," he added.
However, Mr Awasthi warned that if there are additional norms in the wake of SIT's recommendations that make it difficult for foreign investors to invest in Indian markets, it would be a cause for concern.
(With agency inputs)