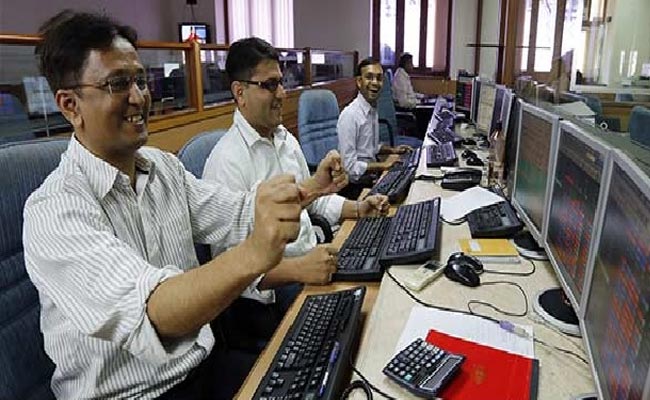 Indian stock markets edged higher today, boosted by strong global equities. Asian shares bounced back today as Chinese President Xi Jinping promised to lower import tariffs on products including cars this year, helping soothe investor jitters over an escalating US-China trade row. Mr Xi said that China will take measures to sharply widen market access for foreign investors, raise the foreign ownership limit in the automobile sector and protect intellectual property of foreign firms. The Sensex rose over 100 points while Nifty hit 10,424 at day's high, its highest since March 13.
Here are 10 updates from today's stock markets
The gains in Indian markets were led broad-based with most of the sectoral indices trading in the green. Banking and metal stock led the gains.

In stock specific action, Axis Bank shares were up around 2 per cent. The private lender said yesterday that its long-time Chief Executive Shikha Sharma will step down at the end of 2018, days after the Reserve Bank of India (RBI) was reported to have expressed concerns about the lender giving her a three-year extension.

Among other gainers, Hindalco, Adani Ports, ICICI Bank and Tata Steel were up between 2 per cent and 4 per cent.

The rupee traded higher at 64.90 in early trade, as compared to Monday's close of 65.02.

The Chinese President's comments prompted a rapid and largely positive reaction in financial markets, which have been rattled over the past week on fears the tit-for-tat US-China tariffs will explode into a full-blow trade war.

The MSCI's broadest index of Asia-Pacific shares outside Japan recovered from early losses and advanced 0.8 per cent. Japan's Nikkei share average climbed 1.1 per cent while US S&P 500 E-mini futures rose 1.2 per cent.

The Nifty is now approaching the important resistance zone of 10,400-10,450, domestic brokerage Angel Broking said in a note.

On the downside, 10350 - 10322 is seen as important support levels, it added.

Overnight, Wall Street's major indexes rose on Monday as a softer stance by US policymakers on China tariffs powered a rebound from last week's selloff, but stocks pared much of their gains late in the session after a report that the Federal Bureau of Investigation raided the office of US President Donald Trump's lawyer.

Indian shares had closed higher for a third straight session on Monday as financial stocks rose with global sentiment turning positive amid easing trade war fears.