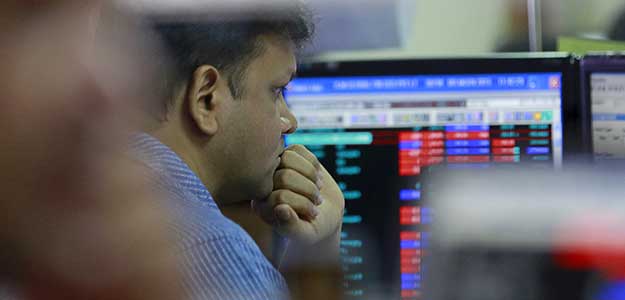 Reversing early gains, the Sensex and Nifty fell sharply on Tuesday amid a crash in China stock markets. The rupee also slipped to 66.70/dollar.
Here are the latest developments:1)
The Sensex fell as much as 390 points today while Nifty hit 7,687 at its day's low. The Sensex, which witnessed its biggest point crash on Monday, had gained as much as 380 points today in early trade but renewed selloff in China markets weighed on the investor sentiment.
2)
In early trade, the rupee gained as much 25 paise against the dollar to 66.39, tracking the weakness in the dollar index, which measures the greenback against a basket of six currencies. But it could not sustain the gains. The rupee had closed at 66.64 yesterday.
3)
The early rebound in domestic stock markets came on the back of a recovery in other Asian markets. But a sharp fall in Chinese markets weighed on investor sentiment.
4)
Stock markets in China continued to struggle, with Shanghai Composite down nearly 5 per cent. China shares are down 15 per cent in the last three days. The crash in China stock markets has been the biggest trigger for the global selloff.
5)
In the past three sessions, the Sensex fell nearly 2,200 points or 7.8 per cent, tracking a selloff in global markets amid jitters over Chinese economy and its currency devaluation.
6)
India's volatility index, often called a fear gauge, was up 5 per cent today after earlier hitting its highest level since May 2014. The gauge surged 64.4 per cent on Monday.
7)
Gautam Chhaochharia, head of India research at UBS Securities, told NDTV that Indian markets continue to remain attractive as compared to its emerging peers. As foreign investors were overweight on India, the global risk-off trade led to selling pressure in Indian markets, he added. Over the last three sessions, foreign investors have sold shares worth nearly Rs 9,000 crore in the cash segment.
8)
Domestic institutions bought shares worth over Rs 4,000 crore yesterday, preventing further slide in markets. They are expected to continue buying Indian equities.
9)
Finance Minister Arun Jaitley briefed Prime Minister Narendra Modi on the selloff yesterday evening. Mr Jaitley said he wanted more steps to be taken to strengthen the Indian economy but cautioned that this could not be done in the next day or two.
10)
Reserve Bank of India Governor Raghuram Rajan yesterday said that the central bank will not hesitate to use its reserves to curb the volatility in rupee. The rupee has fallen nearly 4 per cent since August 11 when China devalued its currency. The Reserve Bank of India has foreign currency reserves of nearly 350 billion dollars.