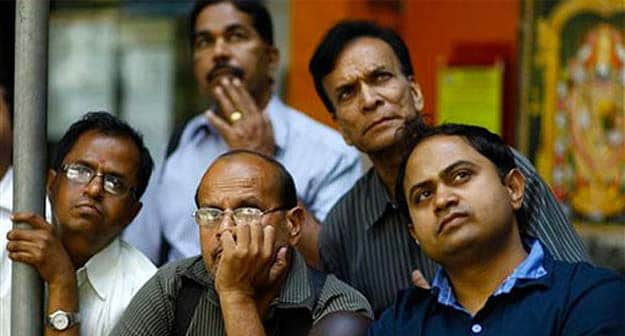 Mumbai:
The BSE Sensex fell 1.4 per cent on Friday and posted its biggest weekly loss since December 2011 as blue chips such as Reliance Industries were hit by a range of factors including profit-taking and disappointment over the budget's lack of specifics.

Shares had surged to a string of record highs since last week ahead of the budget on Thursday, but investors said the government had not spelled out its action on a range of issues, especially in terms of reducing subsidies.

Sentiment was also dampened by concerns about Portugal's banking sector that highlighted contagion risk in the euro zone.

All BSE indices ended in the red except for those in defensive sectors like IT, FMCG and healthcare, sending the benchmark down 3.6 per cent for the week, its biggest weekly fall since a 4.45 per cent fall in December 2011.

With budget out of the way, traders say the focus would shift to global markets, progress on monsoon, and earnings next week.

"Near-term valuations were looking stretched. Now, perspective would be drawn from what will happen from the budget speech and in global markets," said Aneesh Srivastava, chief investment officer at IDBI Federal Life Insurance.

"Also, revenue growth estimates of the government in the budget look tad optimistic given the economy is yet to recover."

The benchmark BSE Sensex lost 1.37 per cent, or 348.40 points, to end at 25,024.35.

The broader Nifty fell 1.43 per cent, or 108.15 points, to end at 7,459.60, closing below the psychologically important 7,500 level. It fell 3.76 per cent for the week, matching its worst weekly fall in March 2013.

Among blue chips, Housing Development Finance Corp fell 3.3 per cent while Reliance Industries was down 3.1 per cent.


The BSE capital goods index slumped 4.8 per cent. Larsen & Toubro (L&T) lost 4.9 per cent while Bharat Heavy Electricals slumped 8.4 per cent.
Banks also fell on potential losses on bond portfolios after the 10-year yield hit its highest level since May 21.
The NSE sub-index for banks slumped 2.5 per cent. State Bank of India fell 4.7 per cent while HDFC Bank lost 1.4 per cent.
IDFC, which is seen as one of the biggest beneficiaries from the budget, also fell 2 per cent on profit-taking after rising 8.7 per cent in the previous session.
However, defensives gained on some churning from high-beta stocks amid heavy falls. ITC rose 1.1 per cent while Sun Pharmaceutical Industries gained 2.5 per cent.
Software stocks gained after Infosys Ltd, India's second-largest software services exporter, posted a 21.6 per cent increase in quarterly net profit, beating estimates.
Infosys shares gained 1 per cent, Tata Consultancy Services (TCS) rose 1.8 per cent, Wipro ended up 1.5 per cent, HCL Technologies advanced 2 per cent, and Tech Mahindra ended 1.4 per cent higher.
Copyright @ Thomson Reuters 2014