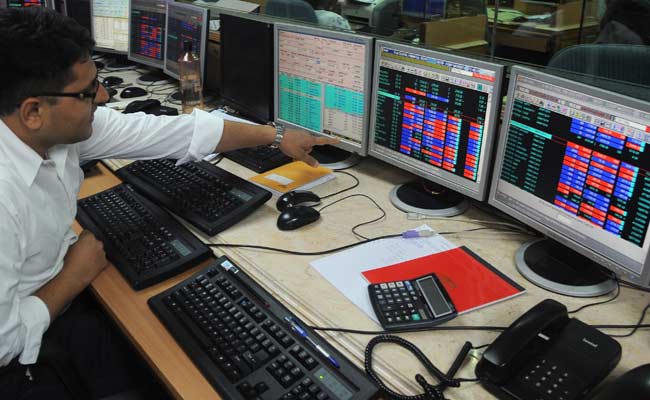 The Sensex rallied nearly 300 points and Nifty closed above its crucial psychological level of 8,650 on the back of rally in banking shares which was triggered after India's biggest public sector lender reported better-than-expected June quarter earnings.

The Sensex closed 293 points higher at 28,152 and Nifty advanced 80 points to end at 8,672.

State Bank of India on Friday said that the total bad loans rose to Rs 1,01,541 crore in the June quarter against Rs 98,173 crore in the March quarter. As a percentage of advances, gross bad loans stood at 6.94 per cent, higher than 6.5 per cent in the March quarter.

However, SBI shares rallied 7 per cent today, as the rise in bad loans was less than expected. Analysts say that the worst of bad loan problems for SBI may be over.

SBI's net profit of Rs 2,521 crore in Q1 was ahead of analysts' estimates. Q1 profit beat was driven by 44 per cent jump in other income, which includes fee income, treasury income, etc.

Post SBI's earnings announcement, shares of other PSU banks also came in high demand. The PSU Nifty Bank index closed 6 per cent higher.

From the Nifty basket of shares 37 ended higher while 14 closed lower.

Hindalco closed 2.88 per cent higher at Rs 146 after it reported nearly four-fold jump in its standalone net profit for the April-June quarter, beating the Street's estimates.

The Aditya Birla Group company's revenues however declined 11 per cent to Rs 7,597 crore due to lower metal prices.

On the other hand, Sun Pharma ended 0.95 per cent lower at Rs 800.55. Meanwhile, India's biggest pharma company reported better than estimated profit for the April-June quarter.

The Vadodara-based pharma company reported a net profit of Rs 2,034 crore in its first quarter compared to a net profit of Rs 556 crore in the corresponding quarter of last fiscal.

Sun Pharma's revenue increased 22 per cent to Rs 8,243 crore in the June quarter compared to Rs 6,761 crore last year.

In the broader markets space, the BSE mid-cap index closed 0.83 per cent higher and the small-cap index closed 0.2 per cent higher.

The overall market breadth was slightly negative as 1,402 stocks ended lower while 1,257 ended higher.

3:13 p.m.: Realty stocks were witnessing selling pressure. The BSE Realty index fell 0.5 per cent; Prestige Estates, Oberoi Realty, Unitech, Godrej Properties, NBCC, Sobha Developers, Indiabulls Real Estate and HDIL were among the laggards.

3:04 p.m.: Auto stocks rallied sharply on Friday, following Supreme Court's decision to lift the ban on registration of diesel cars with over 2000 cc engines in Delhi.

Shares of utility vehicle manufacturer M&M and Tata Motors advanced 3 per cent after the court's verdict. Maruti Suzuki, which does not have any diesel car with 2000 cc capacity in its portfolio, also rallied 1 per cent. The sub-index of auto stocks on the Bombay Stock Exchange outperformed the broader Sensex.

2:44 p.m.: M&M, Tata Motors advance 2-3 per cent after Supreme Court lifts ban on registration of diesel vehicles of 2,000 cc and more in Delhi-NCR.

2:27 p.m.: Sun Pharma reports net profit of Rs 2,033 crore in June quarter compared with Rs 566 crore during the same quarter last year. Sun Pharma shares slip 0.25 per cent to Rs 806.20.

2:12 p.m.: Metal stocks were witnessing buying interest. The BSE Metal index was up 1.4 per cent; Vedanta, Hindalco, Tata Steel, NMDC, Jidal Steel, NALCO and Hindustan Zinc were among the gainers.

2:02 p.m.: From the Nifty basket of shares, 39 were advancing while 12 were declining. BPCL, Bosch Ltd, Idea Cellular, Cipla, HCL Technologies, HUL and Asian Paints were among the losers.

1:52 p.m.: Select realty, IT and oil & gas stocks face selling pressure.

1:38 p.m.: BSE Bankex was up 1.87 per cent. SBI, PNB, Axis Bank, Bank of Baroda, Yes Bank, Federal Bank, ICICI Bank and IndusInd Bank were among the gainers.

1:23 p.m.: State Bank of India on Friday said that the total bad loans on its books have crossed Rs 1 lakh crore as on June 30, 2016. India's biggest lender by assets, accounting for more than a fifth of the country's total bank loans and deposits, posted a 32 per cent fall in net profit due to higher provisioning for bad loans.

1:10 p.m.: Market breadth remains positive as 1,303 stocks gain while 1,121 fall.

1:06 p.m.: PSU Bank Nifty index rallies 7 per cent. Shares of Bank of India, State Bank of India, Canara Bank, Oriental Bank of Commerce, Union Bank and Allahabad Bank surge 3.75-10.33 per cent each.

1:00 p.m.: Stock markets near day's high on rally in PSU banking shares after SBI's better-than-expected results. Sensex rises 264 points to 28,132 and Nifty surges 70 points to 8,662.

12:40 p.m.: State Bank of India reports better-than-expected net profit of Rs 2,521 crore in Q1 compared with NDTV Profit poll of Rs 2,485 crore. Gross non-performing loans as a percentage of total advances come in at 6.94 per cent compared with 6.5 per cent during the previous quarter. Shares of State Bank of India jump 4.67 per cent to Rs 238.


12:35 p.m.:
Oriental Bank of Commerce reports net profit of Rs 100.7 crore in Q1 compared with Rs 257.84 crore during the same period last year. Gross non-performing assets as a percentage of total advances came in at 11.45 per cent from 9.57 per cent during the previous quarter. Shares slip 0.36 per cent.
12:15 p.m.:
Broader market update: BSE Mid-cap index rises 0.8 per cent and small-cap index up 0.5 per cent. LIC Housing Finance was the top gainer from the mid-cap space, up 5.8 per cent to Rs 553. JSW Energy, Glenmark, Yes Bank, Piranal Enterprises, Britannia Industries, Indian Bank and Jindal Steel were also among the gainers from the mid-cap space.
12:11 p.m.:
Stock markets trade firmly higher. Sensex advances 246 points to 28,105 and Nifty rises 67 points to 8,659.
12:07 p.m.:
Glenmark reports 24% jump in Q1 net profit, shares rise over 3 per cent.
12:01 p.m.:
Bosch reports net profit of Rs 379 crore in June quarter, misses estimates. Shares down over 3 per cent.
11:55 a.m.:
Stocks update: Aditya Birla Nuvo down 18% at Rs 1,281, Grasim Industries off 0.50% at Rs 4,516
11:50 a.m.:
Earnings impact: JK Lakshmi Cement shares trade nearly 1% higher at Rs 441 after swinging into profit in Q1
11:45 a.m.:
Hindalco Industries shares jumped nearly 4 per cent to an intraday high of Rs 147.85 on Friday ahead of its June quarter earnings announcement. The Aditya Birla Group company was the biggest gainer among Nifty50 stocks. (
Read
)
11.25 a.m.:
Sensex continued to trade strong, it was up 283 points at 28,142 and the Nifty traded 79 points higher at 8,671. Metal stocks were the prominent gainers in index today led by Hindalco Industries and Tata Steel, which were up 3.7 per cent and 2.6 per cent respectively.
11.20 a.m.:
Shares of Alkem Laboratories rose as much as 3 per cent to Rs 1,625 after the pharma company announced successful inspection of its Taloja, Maharashtra, facility by the US regulator. (
Read
)
10.50 a.m.:
Auto, FMCG and metal stocks were the lead gainers in market today. The Nifty Auto, Nifty Metal and Nifty FMCG sub-indices of National Stock Exchange were up 1.4, 1.72 and 1.09 per cent respectively.
10.20 a.m.:
Broad-based buying across the sectors pushed frontline indices higher. The Sensex jumped nearly 290 points to 28,150.76 and the Nifty50 index made a high of 8,675.20, up over 80 points.
Hindalco was the top gainer in Nifty up 3.5 per cent ahead of its Q1. Tata Motors, Yes Bank and Axis Bank were the other prominent gainers in the Nifty.
9.25 a.m.:
Indian markets opened sharply higher on Friday tracking positive Asian shares. The Sensex jumped over 180 points to an intraday high of 28,043.86 while the Nifty made a high of 8,634.75, up over 40 points.
Meanwhile, Aditya Birla Nuvo shares fell nearly 25 per cent following the announcement of its merger with Grasim Industries. Grasim shares fell over 8 per cent to a low of Rs 4,155.55. The stock has already corrected 14 per cent in last three trading sessions anticipating the merger deal with Aditya Birla Nuvo. (
Read full story here
)
9.00 a.m.:
Rupee opens higher at 66.83 per dollar against Thursday's close of 66.84.
8.45 a.m.:
Indian stock markets are likely to open on a positive note on Friday, tracking the rally in global markets. The Nifty futures trading on Singapore Exchange (SGX) were up 6.50 points or 0.08 per cent at 8,623.50 as of 08.20 a.m., indicating a higher start for Sensex and Nifty.
On Thursday, markets rebounded after two days of losses, helped by buying from foreign investors, who bought cash shares worth Rs 608 crore. Domestic investors were net sellers to the tune of Rs 622 crore.
Among the stocks that will be in focus today are Grasim Industries and Aditya Birla Nuvo, following the announcement of a merger between the two Aditya Birla Group companies. The merger is likely to be completed by next March.
Grasim and AB Nuvo will merge through a stock swap, following which the financial services business of AB Nuvo will be spun off and listed separately by May or June 2017.
Grasim shares have fallen 14 per cent over the last three days, while AB Nuvo shares have traded mixed over the same period.
State Bank of India, the country's biggest lender, will also be in focus as it reports its June quarter numbers today. Analysts will be closely tracking SBI's bad loan situation, after its peer Bank of Baroda reported higher bad loans in its quarterly earnings yesterday.
A number of smaller state-run lenders such as Allahabad Bank, Central Bank of India and Oriental Bank of Commerce will also report Q1 numbers today.
Drugmakers Sun Pharma and Cipla, aluminum maker Hindalco and Bosch are the other Nifty companies that will report quarterly numbers today.
Domestic markets will get support from positive trading in Asia, where stocks rose taking a cue from Wall Street's records overnight. MSCI's broadest index of Asia-Pacific shares outside Japan nudged up 0.1 percent. It was headed to gain 1.9 percent on the week, having brushed a 1-year high on Wednesday.
The S&P 500, the Dow and Nasdaq all closed at historic highs on Thursday for the first time since 1999 on higher crude oil and upbeat corporate results.