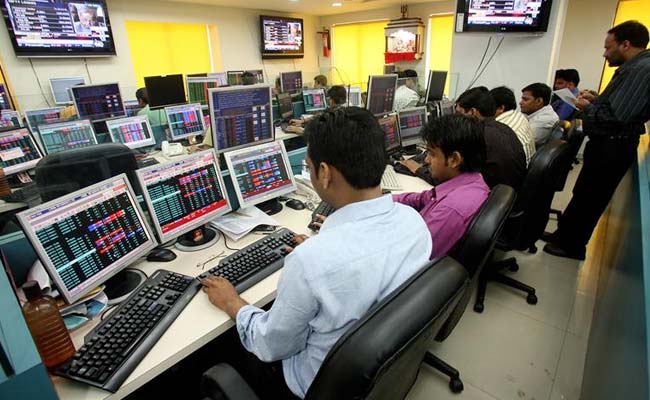 Extending this year's rally, the Sensex and Nifty hit new 52-week highs in morning deals but came off the high levels owing to profit-booking in real estate, pharma, power and oil & gas shares. Better-than-expected third-quarter GDP numbers, earnings from India Inc, a supportive Budget and strong global markets have lifted the sentiment on Dalal Street. The Nifty has already rallied over 10 per cent so far this year. This year's rally is a reversal of sentiment witnessed in the afterward of demonetisation, when Nifty had plunged below 8,000 levels. The Sensex rose nearly 150 points to hit a new 52-week high of 29,132 while Nifty advanced to 8,989. As of 1:18 pm, the Sensex was up 51 points at 29,036 and Nifty was at 8,956, up 10 points. Sanjiv Bhasin of IIFL said Nifty could hit new highs before announcement of state election results on March 11. The Nifty had hit an all-time high of 9,119 on March 4, 2015.

Here are 10 things to know:

1) Despite the notes ban, data released on Tuesday showed that Indian economy clocked a much better-than-expected growth rate of 7 per cent in the December quarter, cementing its place as the fastest growing economy. Economists polled by Reuters had forecast 6.4 per cent growth for the October-December period.

2) Earnings of India Inc have also shown resilience in December quarter. Sanjay Sinha, founder of Citrus Advisors, said Q3 earnings were better than expected and sets the tone for good growth for subsequent quarters. The earnings downgrade cycle is likely behind us, he said.

3) Domestic institutional investors have been big drivers of the current leg of the market rally. In last two months (December and January) they have bought shares worth over Rs. 14,000 crore.

4) A big part of the domestic inflows has also been driven by retail investors. Experts say that nearly Rs. 3,000 crore is being invested by domestic retail investors through systematic investment plans of equity mutual funds every month. A systematic investment plan (SIP) is an investment option offered by mutual funds that help to invest a fixed amount at periodic intervals over a fixed period of time.

5) Foreign institutional investors have also started to nibble at Indian equities after being big sellers of domestic stocks over past few months. In February, foreign institutional investors bought Indian shares worth over Rs. 10,000 crore in cash market.


6)
The Indian currency has hold up well against a rising dollar. A supportive Budget and steady RBI monetary policy has propped up the rupee.
7)
The global markets have also been supportive. The Wall Street has been rallying to new highs, buoyed by expectations of tax cuts and fiscal stimulus from the Trump administration.
8)
The Dow on Wednesday
for the first time ever after US President Donald Trump's in his first speech to Congress said he wanted to boost the US economy with a "massive" tax relief and make a $1 trillion push on infrastructure.
9)
Analysts say Indian equity markets are now playing a catch-up game with its emerging market counterparts after underperforming other emerging markets over the last few months.
10)
Analysts say that the state election results, to be declared on March 11, will set the next direction of the markets. On the global front, risks for the Indian markets include
faster-than-expected pace of rate hikes
from US Federal Reserve and presidential elections in France where anti-European Union leader Marine Le Pen was holding on recent gains in opinion polls.