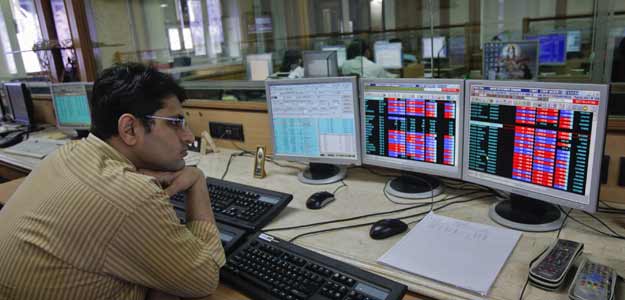 Mumbai: The BSE Sensex and Nifty fell over 1 per cent on Tuesday, posting their biggest single-day decline in 1-1/2 months as blue-chips slipped on caution ahead of the Federal Reserve's two-day meeting while foreign portfolio sales also weighed on sentiment

The 50-share Nifty closed below key 8,000 level alongside global stocks that slipped to one-month lows as investors await clues on whether the US central bank could raise interest rates sooner than previously expected.

Overseas investors sold index futures worth of Rs 1,394 crore ($228.2 million) and cash shares worth of Rs 74.6 crore on Monday, exchange data showed.

The indexes touched record highs last week, driven by foreign investors who have pumped in Rs 1,418 crore in shares in 2014 so far, on hopes reforms by Narendra Modi-led government will revive growth in Asia's third largest economy.

"Looking at global markets, US Fed has been hinting at tightening of interest rates after following loose monetary policies for past six years. This could lead to sell off in equity in emerging markets and impact India also," said Atul Kumar, head of equity funds at Quantum AMC.

The broader Nifty lost 1.36 per cent, or 109.10 points, to end at 7,932.90. Earlier, it hit an intraday low of 7,925.15, the lowest since August 27.

The benchmark BSE Sensex fell 1.21 per cent, or 324.05 points, to end at 26,492.51.

Both the indexes saw their biggest single-day fall since Aug. 1.


Blue-chips led the declines. Reliance Industries Ltd fell 2.3 per cent, while Axis Bank ended lower 3 per cent.
Oil and Natural Gas Corp fell 2.9 per cent while Tata Motors lost 2.5 per cent.
Among other major losers, State Bank of India fell 2.3 per cent and Larsen & Toubro ended down 2.9 per cent.
Yes Bank Ltd fell 4 per cent, extending Monday's 5.2 per cent slump after MSCI excluded the lender from its standard and mid-cap indexes.
However, Colgate-Palmolive (India) rose 2.8 per cent after Credit Suisse upgraded the stock to 'outperform' from 'underperform', saying competitive risk from Procter & Gamble Hygiene and Health Care Ltd has abated.
Copyright @ Thomson Reuters 2014