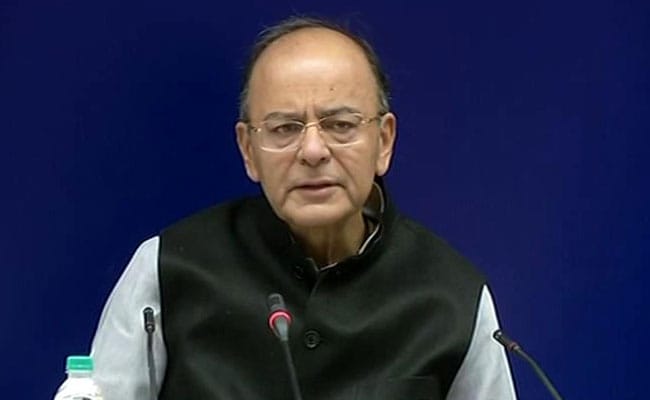 Even as the stock market continued its downward slide on Monday, Finance Minister Arun Jaitley said it was not in reaction to the Union Budget or the reimposition of Long Term Capital Gains (LTCG) tax, but due to global factors. Jaitley's remarks came after the Indian equity markets on Friday witnessed the steepest fall since November 2016, after LTCG tax on equities was re-introduced in the Union Budget for 2018-19, leading the Sensex to shed over 800 points and the Nifty50 over 200 points in a single day.
"It is not due to the Budget or the LTCG. Dow Jones has also fallen by over two per cent," Jaitley told reporters on the sidelines of an event here. Jaitley was referring to the sharp fall in the US stocks on Friday when Dow Jones Industrial Average lost 665.75 points, or 2.54 per cent, to close at 25,520.96.
The barometer Sensex of the BSE, however, continued its downward slide on Monday and fell by almost 550 points to 34,520 before recovering to some extent.
Hasmukh Adhia, who is also the revenue secretary, also attributed the fall to global factors.
"It is very unfortunate that our move came in at wrong time because of global markets also going down. There is a strong connection of all equity markets. The MSCI all country index of equity markets went down by 3.4 per cent in last week, especially on Thursday Friday," Mr Adhia said a post-budget meet organised by industry body CII.
Adhia also said that the income of government from Securities Transaction Tax (STT) is a paltry Rs 9,000 crore.
"In equity market there are more number of short term capital gains transactions, so income of Rs. 9,000 is mostly from short term transaction," he said.
Meanwhile, explaining the reason behind imposition of LTCG, the government said that exempting such income from tax was inherently biased against manufacturing and encouraged diversion of investment to financial assets.
(Except for the headline, this story has not been edited by NDTV staff and is published from a syndicated feed.)