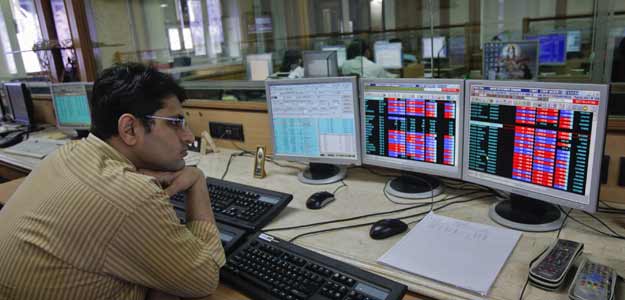 Mumbai:
The BSE Sensex fell on Friday to mark its biggest weekly fall in nearly a month, as rate-sensitive stocks such as ICICI Bank fell on caution ahead of the Reserve Bank of India's policy review and the US Federal Reserve meet next week.
Stocks fell for a fourth consecutive day to come to pre-exit poll levels after a pickup in retail inflation to its fastest pace on record was seen forcing the RBI to raise interest rates for a third time on Wednesday.
RBI Governor Raghuram Rajan said on Thursday that he was "very uncomfortable" with the inflation reading.
The fall also tracked global equities which headed for their biggest two-week drop since June amid concerns the Fed could start scaling back its stimulus as early as next week after its two-day meet ends on Wednesday.
"While Fed taper fears led to declines in the middle of the week, CPI inflation data further dampened sentiments on Friday," said Dipen Shah, head of private client group research at Kotak Securities.
Mr Shah expects the RBI to increase rates by 0.25 per cent on December 18 when it meets for its monetary policy review.
The BSE Sensex fell 1 per cent, or 210.03 points, to end at 20,715.58. It fell 1.34 per cent for the week. The broader Nifty fell 1.1 per cent, or 68.65 points, to end at 6,168.40, marking a weekly fall of 1.46 per cent.
The NSE index fell over 1 per cent to close below the psychologically important 6,200 level. Both the indices marked their biggest weekly fall since November 8.
Options traders said the NSE index may fall further, extending four sessions of losses after hitting a record high earlier in the week, as the 6,200 December put option saw a reduction in outstanding positions.
Rate-sensitive stocks slumped after sharply higher food prices drove up retail inflation to 11.24 per cent in November raising expectations of a rate hike by the central bank when it meets on December 18.
ICICI Bank Ltd slumped 4.2 per cent, while mortgage lender Housing Development Finance Corp Ltd fell 2.4 per cent.
State Bank of India fell 1.9 per cent, while Bank of Baroda Ltd ended 3.2 per cent lower.
Capital goods stocks also fell after production at factories, mines and utilities shrank 1.8 per cent year-on-year in October.
Larsen & Toubro Ltd fell 1.4 per cent, while Bharat Heavy Electricals Ltd fell 4.1 per cent.
Elder Pharmaceuticals Ltd slumped 8 per cent after rival Torrent Pharmaceuticals Ltd agreed to buy its branded formulations business in India and Nepal for about Rs 2,000 crore.
Torrent shares also fell 4.4 per cent as cash would be going out of its books of accounts which may weigh on sentiment, dealers said.
Among the gainers, Tata Motors Ltd shares rose 2.8 per cent on value buying after falling 8.4 per cent over the previous three sessions on worries about higher-than-expected capex at unit Jaguar Land Rover Ltd.
Copyright @ Thomson Reuters 2013