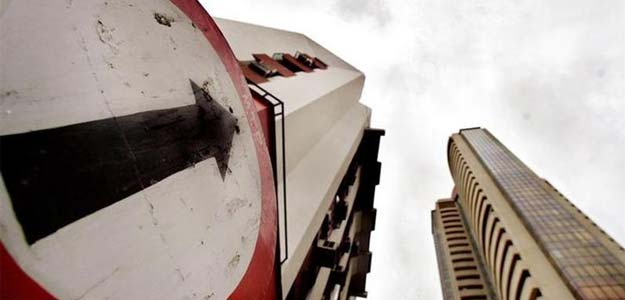 The BSE Sensex surged as much as 487 points to a record high of 21,483.74, while the 50-share Nifty benchmark edged past the key 6,400 levels on Monday as investors cheered a four-zero victory for the Bharatiya Janata Party in the state polls. (Track stocks)

The BJP is perceived by many investors as being more business-friendly, and it's good showing in assembly elections raised optimism about its chances ahead of general elections due by May next year.
(Also read | Sensex hits record high: stocks to buy and to avoid)

The Sensex bettered its previous record high of 21,321.53 hit on November 3, 2013, while the Nifty surged past its previous all-time high of 6,357 hit in January, 2008. The rupee hit nearly 4-month high of 60.84 against Friday's close of 61.41. (Read more)

The BJP cruised to landslide wins in Madhya Pradesh and Rajasthan, won a majority in Chhattisgarh and emerged as the single largest party in Delhi. (Read full story here)

Market analyst Sarvendra Srivastava told NDTV that a game changing session is on the cards and a breakout has happened in the expected direction.

Madhav Dhar, managing partner of GTI Capital told NDTV that this verdict is more of a vote against the ruling Congress Party. The results are an affirmation that we had unsustainable policies and a lot of cynics about India will pause and say wow things will change, he said. (Watch the full interview)

"The economy will be on a 7 per cent growth trajectory, inflation will be below 7 per cent and corporate profits will rise. Markets will be substantially higher that what it is today," Mr Dhar added.


Market veteran Rammdeo Agarwal of Motilal Oswal Securities said this is not a 4-0 mandate, but a 40-0 win for the BJP.
"This is not a semi-final, but almost a final for the markets, he added. (Read:
What brokers say about BJP win
)
However, foreign brokerages were a little subdued in their outlook. Macquarie said the positives from state elections are somewhat factored in. The general elections are still six months away, so there's still uncertainty, it cautioned.
Bank of America Merrill Lynch said it is important to note that the four states are traditionally BJP strong-holds. State results are not enough to indicate the direction of 2014 elections, it added.
On the Nifty, 44 of the 50 shares traded in the green, but banking and industrial stocks were the biggest gainers. The Bank Nifty rose as much as 4.3 per cent. ICICI Bank was the top Nifty gainer, up 4.7 per cent. Engineering and construction major L&T traded with over 3.5 per cent gains.
As of 10.45 a.m., the Sensex traded up 345 points at 21,340, while the Nifty traded 102 points higher at 6,361.