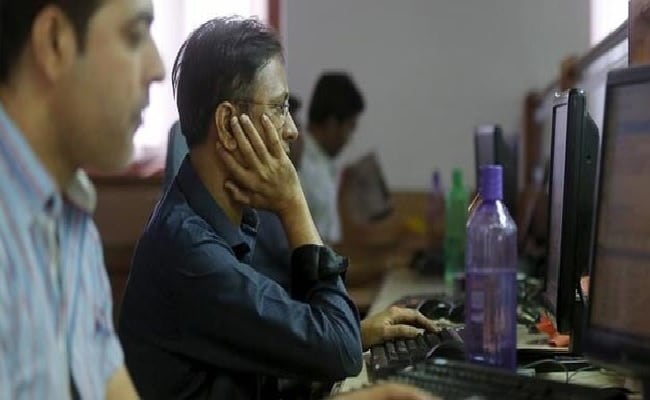 3.35 p.m.: Indian shares ended marginally higher on Wednesday as gains in metal and FMCG shares were offset by losses in energy and telecom stocks. The Sensex closed 22 points higher at 27,257.64 and the Nifty ended 19 points higher at 8,417. Among individual sectors metal stocks outperformed. The Nifty Metal sub-index of NSE closed 2.36 per cent higher led by gains in Tata Steel and Hindalco Industries, which surged 3.1 and 3.48 per cent respectively.

The midcap and smallcap shares also outperformed the broader indices. The BSE Midcap index closed 0.45 per cent higher, while the smallcap index added 0.61 per cent.

Among Nifty stocks, Ultratech was the top gainer with 3.59 per cent gains, while Idea Cellular was the top loser in the index, down 2.6 per cent. NTPC, Hero MotoCorp, Bosch, Bharti Airtel and BPCL were the other major losers in the Nifty, falling between 1.4-1.7 per cent.

3.10 p.m.: The BSE Sensex was up 44 points at 27,280 and the Nifty was 22 points higher at 8,420 on the back of gains in metal stocks. The metal sub-index of NSE was up 2.35 per cent.

Among the Nifty50 stocks, Ultratech Cement surged over 4 per cent to be the top gainer in the index. Hindalco Industries, BHEL, Tata Steel and HUL were the other big gainers in the Nifty.

3.05 p.m.: The Union Cabinet today approved a plan to publicly list five state-run general insurance companies - New India Assurance, United India Insurance, National Insurance Company, Oriental Insurance Company and General Insurance of Corporation of India.

1.50 p.m.: The BSE Sensex and Nifty turned flat as energy stocks extended fall. The Sensex was up 5 points at 27,241 and the Nifty was hovering around the 8,400 mark. NTPC was the top loser in Nifty down 2 per cent. Gail India, BPCL and Reliance Industries were the other big energy losers in the Nifty.

12.30 p.m.: Broader markets trimmed gains as energy stocks came under selling pressure. The Sensex was up 52 points at 27,288 and the Nifty was 23 points higher at 8,421. Energy stocks like Gail India, NTPC, BPCL, Reliance Industries fell between 1-1.7 per cent.

12.00.p.m.: Metal stocks extended gains. Nifty Metal sub-index of NSE was up 2.14 per cent led by gains in Tata Steel, Hindalco, which were up over 3 per cent each.

Meanwhile, the was up 130 points at 27,365 and the Nifty traded 46 points higher at 8,444. BHEL was the top gainer in Nifty, up 4.26 per cent.


10.35 a.m.:
United Spirits shares were up 5 per cent at Rs 2,187 on top of yesterday's 6.53 per cent gains. According to a Bloomberg report Diageo Pls is considering increasing stake in the company. The maker of Johnnie Walker scotch is weighing an open offer to the public shareholders of USL, Bloomberg reported citing sources. (
Read story
)
10:08 am:
Markets extend gains: Nifty firm above 8,450, Sensex up 170 points
9.45 a.m.:
Broader markets extended gains amid broad-based buying. The Sensex was up 170 points at 27,406 and the Nifty jumped 55 points to regain the 8,450 mark. Among individual sector, banking and metal stocks witnessed maximum buying. The Nifty Bank and Nifty Metal sub-indices of NSE were up 0.92 and 1.38 per cent respectively.
9.20 a.m.:
Indian equity markets gained on Wednesday tracking positive trade across Asian shares. The Sensex rose over 100 points to 27,339 and the Nifty50 index traded 33 points at 8,431.
Buying was visible across the sectors with banking, metal emerging as prominent gainers. The Nifty Bank, NSE's sub-index for banking shares jumped 0.54 per cent, while the metal sub-index of NSE added 0.69 per cent.
Among Nifty50 stocks, IndusInd Bank was the top gainer followed by Ambuja Cements, Ultratech Cement, Kotak Mahindra Bank ans Tata Steel, which were up between 0.9-1.2 per cent.
Meanwhile, Bharti Airtel was the top loser in Nifty, down 0.82 per cent followed by BPCL, Bajaj Auto and Coal India.
9.00 a.m:
Rupee opens higher at 67.93 per dollar against Tuesday's close of 67.95.