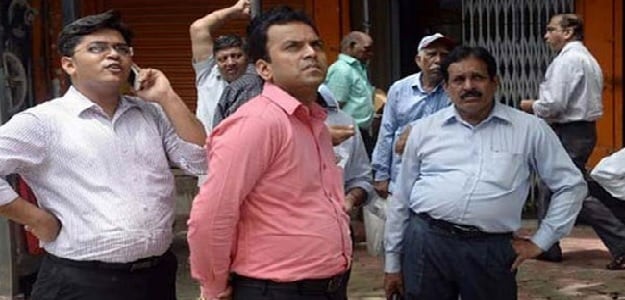 Indian shares edged lower on Friday, a day after hitting their highest levels this year, as investors booked profits in recent outperformers but indexes were still headed for weekly gains on the back of strong flows.

Stocks rose nearly 1 percent this week and were on the verge of turning positive for the year on hopes the central bank would continue to cut interest rates in view of easing inflation and expectations of good monsoon rains.

Foreign investors bought a net $872.22 million worth of Indian shares so far this month, taking this year's inflows to $1.41 billion.

But analysts warned shares could see a slowdown in the pace of gains, with heavyweight Reliance Industries slated to report their quarterly results later in the day.

"Markets seem to be back in a bull range, but it can't be a one-way street. There has to be some correction or consolidation and that's exactly we should expect now," said Ambareesh Baliga, a Mumbai-based independent market analyst.

The Nifty fell 0.32 percent to 7886.70 by 0913 GMT and was set for a 0.8 percent gain for the week after hitting its highest since December 2 on Thursday.

The Sensex dropped 0.35 percent to 25,790.14.

Among decliners, Housing Development Finance Corp fell 1.8 percent after gaining 2.3 percent on Thursday on news that the mortgage lender plans to list up to 10 percent stake in life insurance JV.

Asian Paints fell 2 percent after rising by about same level this week.


Miner NMDC fell 2 percent on media reports that the government is planning to sell a 10 percent stake in the state-run firm to raise Rs 4,000 crore. (http://bit.ly/1VKKsPc)
But banking stocks rose for another session after a media report on Thursday said the central bank had trimmed the list of companies that needed bad loan provisioning. State Bank of India and Punjab National Bank rose 2 percent each.
HDFC Bank rose 0.6 percent after the lender reported a 20 percent jump in March-quarter net profit at 33.74 billion rupees, in-line with market expectations.
IndusInd Bank was up 1.4 percent after some brokers raised price targets on the stock following in-line quarterly results.
Tata Steel gained 1 percent after the UK agreed to take up to 25 percent stake in Tata's steel plants in rescue deal.
($1 = 66.5725 Indian rupees)
(This story has not been edited by NDTV staff and is auto-generated from a syndicated feed.)