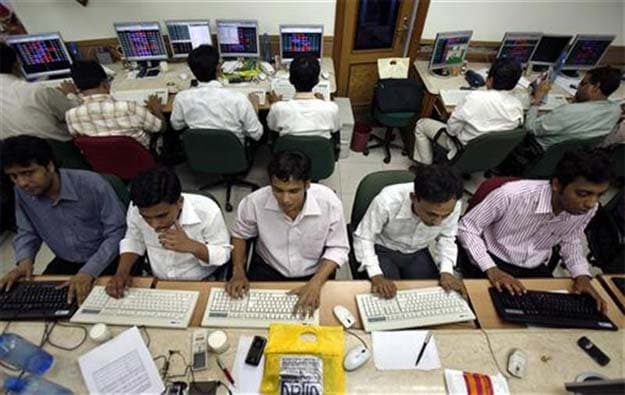 Indian stock markets snapped a four-day rally to close sharply lower after new Reserve Bank governor Raghuram Rajan surprised markets with a 0.25 per cent repo rate hike on Friday. The Sensex, which crashed over 600 points post the RBI policy announcement, ended 383 points or 1.85 per cent lower at 20,263.71.
The broader Nifty declined 1.7 per cent to end at 6,012, while the rupee fell 0.74 per cent to close at 62.23 as against Thursday's close of 61.77 per dollar. The rupee fell despite reports that the RBI sold dollars to support the currency.
Raghuram Rajan hiked policy repo rate by 25 basis points (bps) to 7.50 per cent, defying widespread forecasts that he would leave the rate on hold to bolster a sluggish economy. The cash reserve ratio or the amount of money banks have to park with the RBI, has been kept unchanged at 4 per cent.
Dr Rajan said the central bank's move to hike rates was aimed at reining rising inflation - India's retail inflation is around the double-digit mark and headline inflation hit a 6-month high in August. He also added that the hike in the repo rate should not be immediately viewed as negative for growth.
However, markets refused to cheer his effort and economists said the impact of the rate hike will be negative.
"Unsurprisingly, the forex market's first reaction has been negative. Higher interest rates have negative implications for growth and equities, both of which are key drivers of the Indian rupee," Standard Chartered said in a note.
Banks were the worst hit, with the NSE Bank index closing 4.1 per cent lower. Private lender Yes Bank closed 8 per cent lower at Rs 356.25, while ICICI Bank declined 4.8 per cent to Rs 987.30. State Bank of India shares closed down 3.4 per cent lower at Rs 1,746.55.
"It's a good time to book profits in banking stocks. There is problem on growth and asset side and with the repo rate hike, there will be problems on the treasury side. So, numbers are going to be bad for the current quarter," Nischal Maheshwari of Edelweiss Capital told NDTV.
Realty and auto stocks also fell sharply as banks indicated they will hike lending rates soon. The BSE Realty index crashed 6.5 per cent. DLF, India's biggest real estate developer, closed 11.6 per cent lower at Rs 151.50. It was the biggest loser on the Nifty.