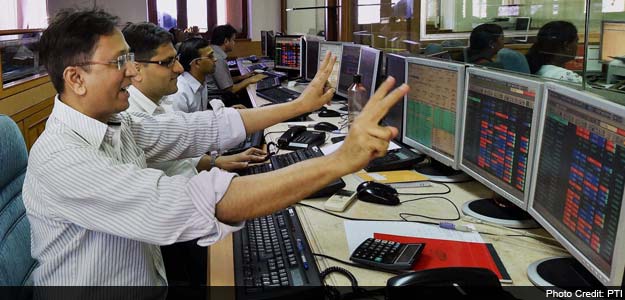 3:41 p.m. The Nifty rose to a third consecutive record high, while the Sensex surpassed 26,000 points, riding on gains in technology stocks ahead of Infosys Ltd's earnings and hopes of a fiscally prudent budget later this week. The BSE Sensex closed 0.53 per cent higher at 26,100.08 points, while the Nifty ended 0.46 per cent higher at 7,787.15. Infosys gained 3 per cent. (Track gainers)
3:00 p.m. Markets at day's high: Sensex up 151 points at 26,114; Nifty eyes 7,800 (Track markets)
2:20 p.m. ITC, VST Industries Fall on Duty Hike Concerns. Shares in cigarettes manufacturer ITC and VST Industries fell nearly 1 per cent on Monday after Union Health Minister Harsh Vardhan wrote a letter to state government urging them to impose a Value Added Tax or VAT of at least 50 per cent on all tobacco products. (Read here)
2.20 p.m. Shares in cigarettes manufacturer ITC and VST Industries fall after Union Health Minister Harsh Vardhan wrote a letter to state government urging them to impose a Value Added Tax or VAT of at least 50 per cent on all tobacco products. (Read here)
2:05:p.m. IT stocks extend gains with BSE IT index up 2.4 per cent. IT stocks extend gains with BSE IT index rising 2.4 per cent. Infosys rises 3.5 per cent while TCS is up nearly 3 per cent. (Read here)

1:30 p.m. Market update: Sensex see some uptick, up 78 points at 26,040; Nifty rises 20 points to 7,770
1:10 p.m. Midcap buzzers: NBCC surges 18.5%; CanFin Homes up 13%, Rajesh Exports rises 8% while ICRA is up 7.5%
12:40 p.m. Markets trim gains: Sensex up 60 points at 26,021 while Nifty up 11 points at 7,763. At day's high Sensex hit had 26,116. Oil & gas stocks extend losses. ONGC falls 1.2 per cent while RIL is off 0.70 per cent.
12:01 p.m. JK Jain, derivative analyst at Karvy Stock Broking, says the bullish momentum in markets is likely to continue and could rise 100-150 points from here. However, post-budget he sees some consolidation in the market. (Track markets)
11:45 a.m. Markets off day's high: Sensex up 84 points to 26,046; Nifty rises to 7,770, up 18 points
11:30 a.m. IT stocks are among the biggest gainer today. Infosys and TCS are up over 2 per cent while Wipro advances over 1 per cent. Infosys is due to announce its Q1 results this Friday. Recent string of stronger US economic data and the better-than-expected results for Accenture has boosted the outlook for IT stocks.
11:15 a.m. IDFC up 4 per cent to Rs 139.75 to be the biggest Nifty gainer. The stock rose after Morgan Stanley upgraded the stock to "overweight" from "underweight" and raises its target price to Rs 175. In a bull case, Morgan Stanley says IDFC could hit Rs 300/share. (Read here)
10:39 a.m. Market update: Sensex up 88 points at 26,050. Nifty up 19 points at 7,770. Shares in oil marketing companies and upstream oil producers like ONGC and Oil India fell between 1 to 2 per cent on Monday after Oil Minister Dharmendra Pradhan said on Friday that his ministry was not considering any proposal to raise prices of kerosene and LPG. (Read here)
10:30 a.m. South Indian Bank shares gain nearly 6 per cent on US fund's stake purchase. South Indian Bank Ltd's shares gained as much as 5.9 per cent to a record high at Rs. 35.05 after US-based Pabrai Investment Fund, run by fund manager Mohnish Pabrai, bought a 1.5 per cent stake, or 19.6 million shares, in the company on Friday. (Read here)
9:45 a.m. Sensex up 0.5 per cent to 26,085. Gautam Shah, associate director & chief technical analyst at JM Financial Services on markets: Nifty could consolidate at 7,860 on the upside. The rally from 6,300 to 7,800 has been almost non-stop and markets need time to digest the rally. The consolidation period could last till end-August. I expect markets to rise around 35 per cent till mid-2015. (Track gainers)
9:35 a.m. Sensex holds above 26,000, up over 100 points. Oil & gas stocks were weak today after oil minister Dharmendra Pradhan on Friday clarified that the government has no plans to raise LPG and kerosene prices as of now. Oil & gas, led by RIL, had gained sharply on Friday amid speculation over fuel price hike. BPCL was today down 1.3 per cent, ONGC fell 0.5 per cent while RIL was off 0.15 per cent. (Track markets)
9:25 a.m. Sensex holds over 26,000, up nearly 100 points at 26,071.89. Nifty up 22 points at 7,778. IT stocks lead gains today, up nearly 1 per cent. Auto, metals, power and realty indices rise over 0.5 per cent. (Track gainers)
9:20 a.m. Nifty gainers: IDFC soars nearly 4 per cent, Tata Power 2.5 per cent, Infosys 1.5 per cent, Tata Motors 1.2 per cent, DLF 1.1 per cent.
9:16 a.m. Sensex hits 26,000 for the first time amid a pre-budget rally that has seen Sensex, Nifty rise over 3 per cent in the previous week. (Track markets)
9: 10 a.m.Deven Choksey of KR Choksey says markets are exicited about the first budget of the Narendra Modi government, which will showcase the economic theme for next five years. Deven Choksey expects Nifty to trade in a range of 7,700-8,000 ahead of the budget and immediately after the budget.
9.08 a.m. Rupee trades lower at 59.82 to a dollar vs Friday's close of 59.72
9:02 a.m. Elsewhere in other global markets, Asian stock markets got off to a slow start on Monday after a US market holiday but held near three-year highs on optimism about the US economy, with investors now shifting their focus to corporate earnings. MSCI's broadest index of Asia-Pacific shares outside Japan was little changed, staying just under Friday's peak and two percentage point below its 2011 peak, having risen about 7 per cent so far this year.