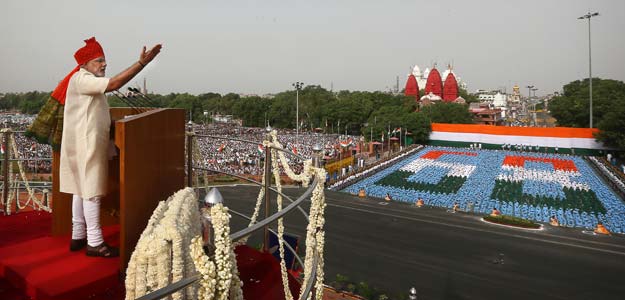 The rally in Indian stock markets, which started in September 2013, continues unabated. Between September 2013 and August 2014, the Nifty has gained 35 per cent. The 50-share bluechip index is now closing in on the magical 8,000 mark, while the BSE Sensex is within striking distance of 27,000 levels.
The first leg of the rally was triggered by hopes of a strong government at the centre. The second leg post May 16, when Narendra Modi-led BJP won a historical majority at the centre, was based on expectations of big-bang reform measures by the new government. The latest leg of the rally, however, seems to be based on hard macro-economic data. (Read: Green shoots of recovery taking hold)
Indranil Sen Gupta and Abhishek Gupta of Bank of America Merrill Lynch say lead indicators signal "Acche Din" for the Indian economy.
"We have upgraded 3 of our 10 lead indicators for the first time since April 2012 when they signaled bottoming out. First, we raise loan demand to neutral from negative... Second, we have raised confidence to positive from neutral... Finally, we have upgraded industrial production to neutral from negative," the BofA economists say.
1) Loan demand: BofA economists expect credit offtake to rise to 17 per cent by March 2015 from a low of around 11 per cent for the fortnight ended August 8, 2014.
Shanti Ekambaram of Kotak Mahindra Bank says there has been a small uptick in retail credit such as auto and home finances. (Watch)
"Post May 16, there has been an uptick in consumer behaviour... There have been a lot of mergers and acquisitions over the last month... a lot of equity have been raised. Companies are preparing for the next phase of growth," she says.
2) Confidence: BofA's risk aversion indicator, which measures how much of money is put to work, continues to improve. Noted economist Ajit Ranade says the next phase of India's growth will be fuelled by public and private investments, where the biggest factor is psychology and confidence. There is enough data to show that confidence in the Indian economy is rising, he added.
3) Industrial production: Manufacturing is the biggest job creator in the country, but its contribution to India's GDP slipped from 15 per cent in 2011-12 to 13 per cent by 2013-14. But after a long time, there is some good news.
Deutsche Bank economists Taimur Baig and Kaushik Das say industrial production growth during the April-June quarter improved to a 3-year high of 3.9 per cent and significantly higher from -0.5 per cent in the March quarter. The rebound in industrial growth could boost India's GDP growth to the highest in eight quarters, Deutsche Bank says.
For equity markets, there are other tailwinds too. The sharp fall in crude prices will help in narrowing the fiscal deficit. It will also cushion the rupee at a time when the Federal Reserve sounding hawkish on raising rates in the US.
All this has excited stock market analysts. TS Harihar, chief executive and founder of HRBV Client Solutions Private, says markets are likely to move up despite valuations topping historical levels. His Nifty target of 8,250 by year-end is by far the most bullish. (Watch the full interview)
UBS has a Nifty target of 8,000, while Deutsche Bank has a Sensex target of 28,000 by December 2014. Most analysts favour cyclicals - autos, banks and industrials - that are inherently linked to the India growth story.