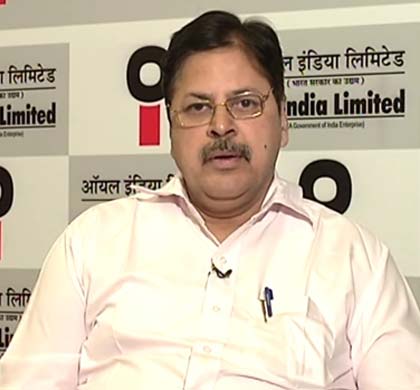 Highlights
TK Ananth Kumar, Director Finance, Oil India told NDTV Profit that the company showed 7 per cent growth in oil and 12 per cent growth in gas despite subsidy burden. "We aim to produce 2.92 billion cubic meters of gas in FY13," he said.
Oslo:
The Nifty index failed to hold on to modest gains Tuesday, and closed below the key 5,000 mark. Weakness in the rupee, which traded 1% lower at 55.72 against the dollar at 03.40 p.m., weighed on sentiments.

The Sensex rose 21.74 or 0.13% to 16,438.58, while the Nifty index closed 4.45 points higher at 4,990. The Sensex closed over 100 points lower than the day's high of 16,554. The failure to hold on to the 5,000 mark is an indication of weakness.

"As long as 5,000 is not taken out on a closing basis, even the short term trend will be viewed as a pullback... the USD-INR are at crucial levels and they can spoil the party," independent analyst Sarvendra Srivastava said.

IT stocks (1.2%) outperformed all other groups of stocks on the BSE. HCL Tech (2.8%), India's 4th largest software services firm, was the top Nifty gainer. Wipro (2.5%), TCS (1.3%) and Infosys (1%) also saw gains.
27 of the Nifty 50 stocks closed in the green. Oil and gas major Cairn India (2.6%) and India's biggest car manufacturer Maruti (2.2%) were the other big gainers. Maruti managed gains after five straight loss making sessions. The stock has been under pressure on the back of the weakness in the rupee.

Coal India (2.2%) gained on the back of better realisations in the March quarter. Drug maker Ranbaxy (2%) gained on the back of FDA approval for a new drug.

Cement major ACC (-2.2%) was the top Nifty loser, followed by oil refiner BPCL (-2.1%). Tobacco major ITC (-1.8%) and infra lender IDFC (-1.7%) also saw strong selling pressure.


Telecom stocks like Bharti Airtel (-0.78%) came under selling pressure after a price cut by Morgan Stanley. Idea Cellular and Reliance Communications ended lower on the back of Morgan downgrade.
Tata Motors (-0.3%) reversed trend to end lower. The stock traded higher for most part of the session today. It will report its March quarter earnings today. Sun Pharma also closed lower ahead of earnings. However, steel major SAIL (-0.4%) gave up gains despite posting strong numbers in the fourth quarter.
The market breadth turned negative. Only 44% stocks managed to advance on the broader BSE 500 index.
Asian markets closed with gains and supported sentiments on the Street. European stocks also opened higher but traded flat to negative when Indian stocks closed.